Happy New Year from the Fantom Foundation!
We are grateful for your ongoing support and dedication, especially during the challenging market conditions of 2022. Our community is essential to our success, and we couldn't have made it this far without you.
In 2022, we experienced significant growth, including the launch of new dApps on the Fantom platform, listings and integrations of FTM on various exchanges and wallets, several network upgrades, and the passage of governance proposals. We also announced a number of key partnerships that will help drive Fantom forward in the coming year.
Let's recap every major part of Fantom's journey in 2022!
Network Growth
Daily Transactions
Throughout 2022, the Fantom network averaged around 500k - 1 million daily transactions, which is a massive and consistent difference compared to 2021.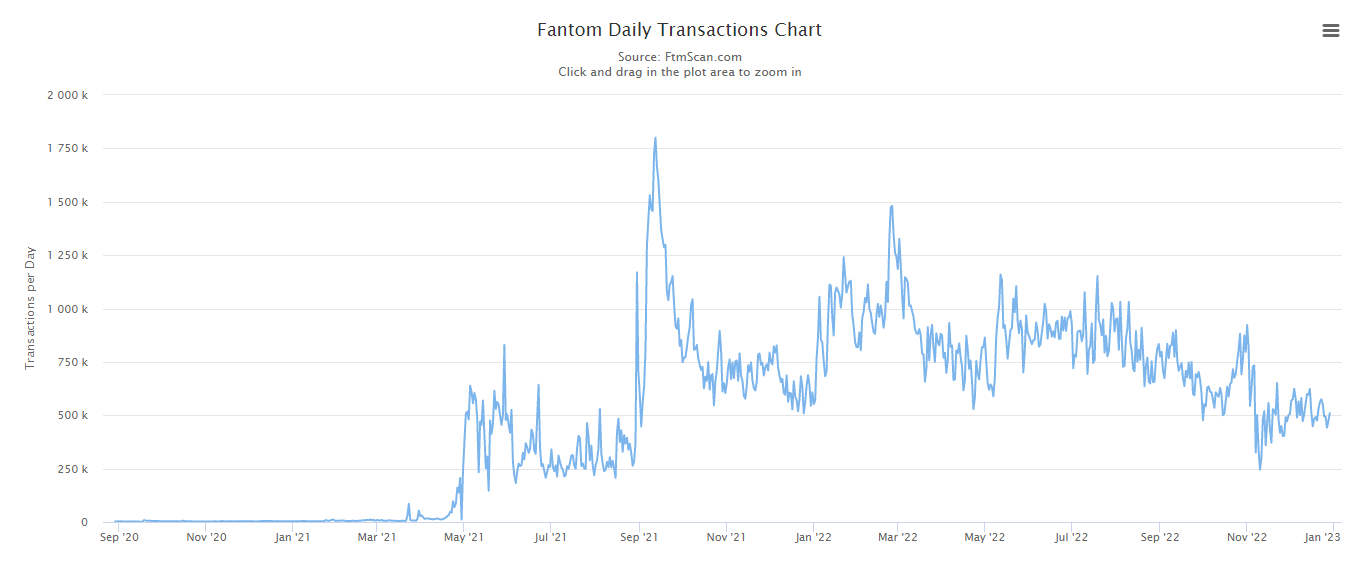 Daily Active Addresses
The chart below from Nansen says it all; daily active addresses on Fantom blew up in the last quarter of 2022. It seems like enjoying the Fantom platform became popular overnight (in reality, XEN Crypto caused the address spike, but we like to think a small country suddenly decided to use Fantom!)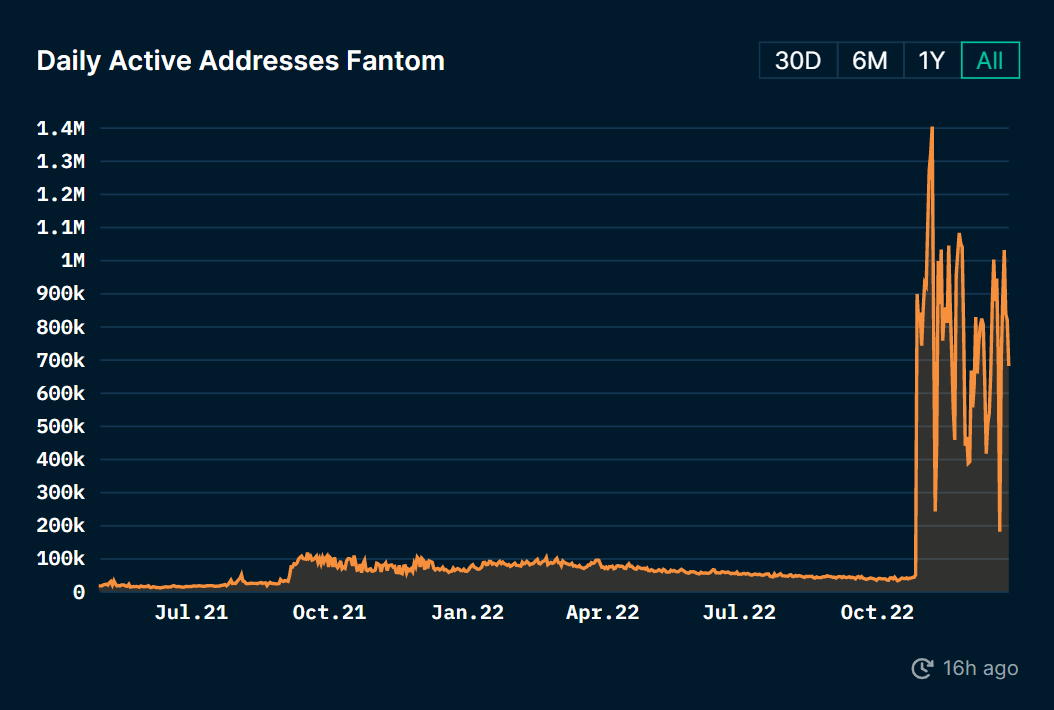 Unique Addresses
On January 1, 2022, we had around 1.5 million unique addresses on Fantom. Now, that number has skyrocketed to 33 million! We even saw a record number of 1 million addresses created in a single day on November 6, 2022.
Similar to the previous chart, XEN Crypto played its part in the address spike.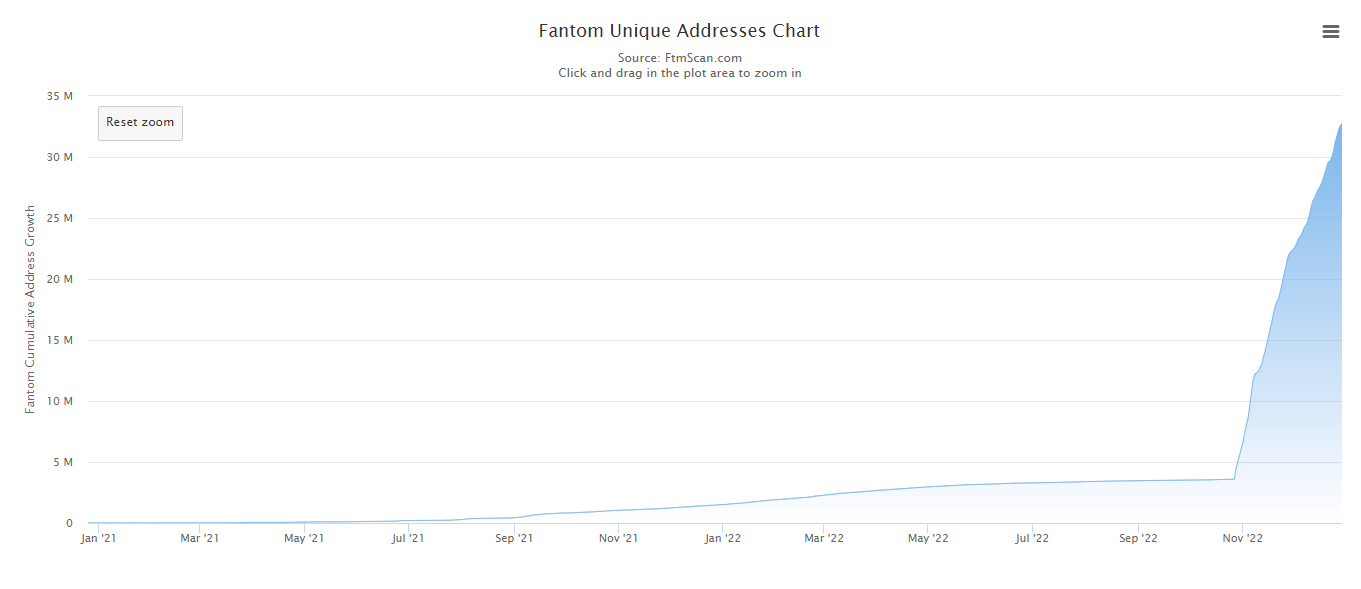 Total Value Locked
We experienced a market-wide downturn in 2022, which left the total value locked on many networks depleted in terms of USD, including Fantom.
However, in terms of FTM, the total value locked on Fantom still stands strong at around 2.7 billion FTM!
Meanwhile, we've been working harder than ever to make Fantom the best smart contract platform out there. Read our achievements in 2022 in the section below.

---
Achievements
Integrations & Support
At Fantom, we are committed to supporting both developers and users in building a thriving ecosystem.
In 2022, we saw many exciting dApps and projects launch on Fantom. Apps like, 1inch, Premia, and UniDex empowered users to take control of their finances in a self-custodial manner, whether that be performing simple swaps or leveraging derivatives. And with a variety of crypto tax software available, users can now outsource the tedious tax reporting from these trades to Crypto Tax Calculator, Blockpit, and ZenLedger.
Liquid staking became more accessible with Ankr, Stader Labs, and Beefy, all of which added their own options for liquid staking on Fantom. NFTs also had their moment as XP.NETWORK enabled the seamless bridging of NFTs between other chains and Fantom, and Double Protocol made it possible to rent NFTs.
We're just scratching the surface here! Check out the full list of projects that integrated Fantom in 2022:
---
Exchange Listings and Wallet Integrations
Fantom grows with every exchange that lists FTM and every wallet that supports the token as more users gain access to our platform.
In 2022, we worked with some of the biggest exchanges and wallets, such as Kraken and Ledger Live, to bring FTM to more people. We even saw the launch of Felix Exchange, an exchange focused specifically on Fantom!
Check out the full list of exchange listings and wallet integrations in 2022:
---
Partnerships
Over the course of 2022, we formed some important and productive partnerships.
Moving forward, all Solidity workshops hosted by Australia's University Network for Cryptocurrency & Blockchain will be taught on the Fantom Testnet. We're also sponsoring their hackathons and various educational lectures to ensure the next generation of blockchain innovators equip Fantom with the power it offers.
We renewed our partnership with Formula 1 driver Pierre Gasly to drop his second NFT collection on Fantom! Some say that a transaction to mint his NFT confirmed faster than a certain driver complained about track limits. We also welcomed several venture capitalists, such as Mapleblock Capital, GDA Capital, and Cypher Capital, who all brought real funding opportunities to projects building on Fantom.
Check out the full list of partnerships formed in 2022:
---
Fantom Foundation Developments
At the Fantom Foundation, we had a jam-packed 2022.
We made several improvements to the Fantom infrastructure, including SnapSync and PebbleDB updates that reduced storage requirements and enhanced performance for nodes. We passed a governance proposal that reduced FTM inflation to 6% by adjusting staking rewards, which means it'll take a couple more years for FTM to reach its full supply. In 2023, FTM's inflation will be 1.87%.
A governance proposal went live that aims to reduce Fantom's burn rate and use the savings to reward high-quality dApps, retain talented creators, and support Fantom's network infrastructure. Not only that, but we also launched our $335 million Gitcoin Grants program to help projects in need of funding!
Our presence was worldwide this year. You could find us speaking at SmartCon, Consensus, TOKEN2049, and other events. Check out the pictures below of Michael Kong, our CEO, at Consensus and TOKEN2049 London, and Simone Pomposi, our CMO, at Blockchain Expo Vietnam!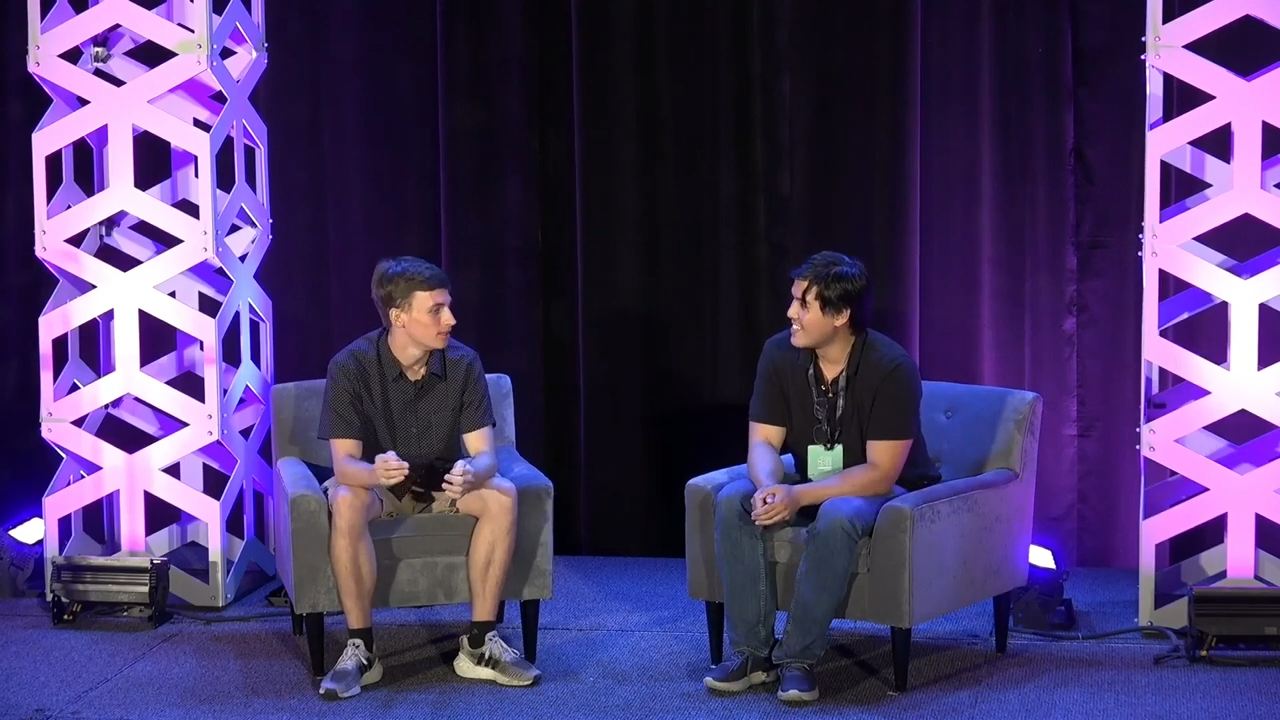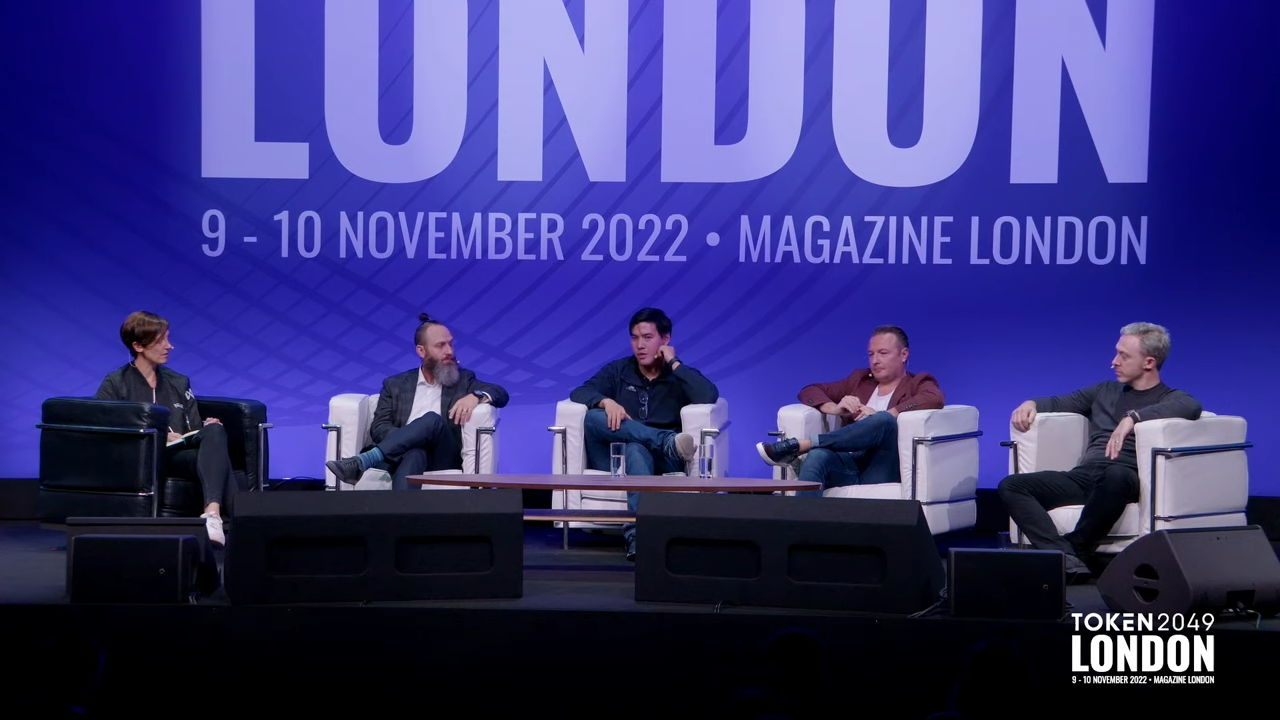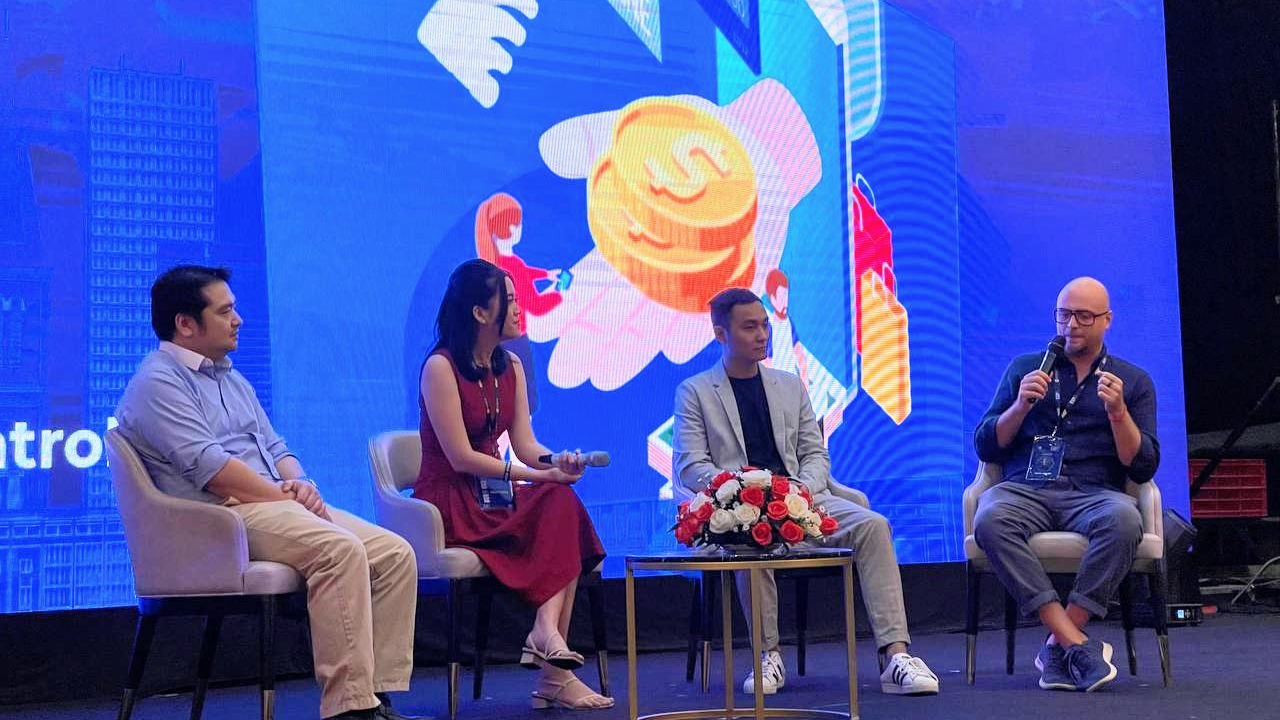 Vertical Blocks, the official Fantom podcast, made its debut to educate listeners around the world, and we continue to seek out opportunities to spread the word about Fantom!
Check out the full list of Fantom Foundation efforts in 2022:
---
GameFi
GameFi was a massive success in 2021 and continued to be popular well into 2022. The concept of real digital ownership transformed the way creators and players thought about in-game economies and content.
On Fantom, we saw the launch of several exciting GameFi projects, including Tankwars, a PVE play-to-earn game, and the first phase of Station Zero-X's Encounter game, which included rewards for playing the game. 8BIT Metaverse released their NFTs and hotel builder, and Stumble Upon Rumble had their first beta phase in which players fought for victory.
These are just a few of the amazing games available on Fantom. For more information about current and upcoming GameFi projects, be sure to follow our Twitter! Our gaming scene is just getting started, and there's much more to come.
---
What We're Looking Forward to in 2023
Last year was full of achievement and progress, and we have no intention of slowing down. In fact, we have even more exciting plans and initiatives in the works for the new year as outlined in Andre Cronje's letter to the Fantom Foundation team.
One of our key priorities is gas monetization, which will provide strong dApp teams with a sustainable income through revenue sharing based on the gas used by their dApps. To make it even easier for users to get started with Fantom, we also aim to introduce gas subsidies, which will allow them to interact with dApps without having to pay gas fees themselves; the cost will be covered by someone else, such as a friend hoping to get more people interested in Fantom.
We're hoping to implement account abstraction, which means we'll no longer differentiate between EOA accounts (which are accounts owned by a single person) and contracts. Instead, everything will become a contract. EOAs will just be used to instruct a contract, acting as a wallet, to initiate an action. These EOAs could be an email address and password, face ID, or another form of authentication, which will improve dApp experience and enable social recovery. To enhance dApp experience further, we also aim to make it possible to pay for gas fees in tokens other than FTM with economic abstraction.
In addition to these upgrades, we'll be working on new middleware, specifically the Fantom Virtual Machine and new storage mechanisms. The EVM is our primary bottleneck, and with a dedicated and improved virtual machine, we can transform Fantom into a massively scalable layer 1 smart contract platform that maintains fast transaction finality, low fees, and atomicity. No fragmentation, layer 2s, or subnets!
In the past, we have provided resources and documentation primarily to teams that were familiar with Solidity, but we recognize that there's a significant opportunity to expand further by onboarding new builders and non-blockchain native developers. To do this, we'll be updating our documentation and training material to be more accessible and user-friendly for developers who are new to Solidity and blockchain technology.
---
That wraps it up! We hope you enjoyed this recap and will stay on for another amazing year of growth, innovation, and achievement! Thank you for your support and here's to a fantastic 2023!