Announcements
F1™ driver Pierre Gasly set for second NFT drop on Fantom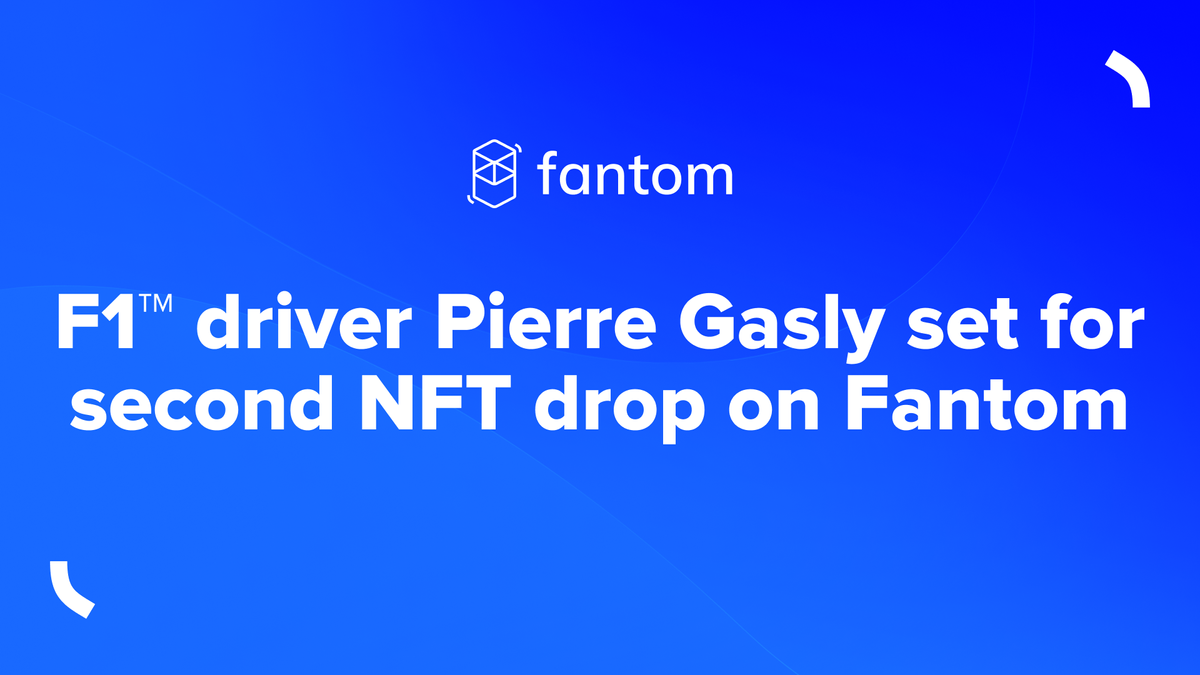 We are excited to announce that the star F1 driver Pierre Gasly will be dropping his second NFT collection on Fantom!
The release will commence with an auction opening on May 2 at 3pm GMT of three exclusive NFTs, each tied to a race helmet and incredible trackside experiences. On May 5, an additional 500 NFTs will drop for direct sale. Both the auction and sale are being managed by Infinity NFT and can be accessed via their website.
NFT Auction
Each of the NFTs on auction on May 2nd is redeemable for:
A different race helmet (detailed below)
A VIP hospitality package for 2 people at the 2023 Monaco GP
A meet and greet with Pierre over the next 12 months
A range of Pierre Gasly merchandise.
The auctioned NFTs are each tied to one of the following helmets:
Miami GP Helmet 2022: A special one-off helmet featuring a design inspired by the Vaporwave aesthetic and produced specially for the prestigious Miami GP 2022. The NFT auction will mark the unveiling of the helmet's unique design.
Monza Winning Helmet 2020: A celebrated helmet from Gasly's first race victory in Monza, an iconic race track in Formula 1™ history. This NFT and helmet commemorate Gasly's rapid rise in the world of F1™.
Pierre Gasly's Helmet 2022: This helmet features the new design for the 2022 season, with the Fantom logo.
NFT Sale
The public sale of the Pierre Gasly helmet collection opens on May 5 and consists of 500 editions of an exclusive Fantom-Pierre Gasly helmet design, raced last month at the Saudi Arabian Grand Prix.
These NFTs will have a fixed price of 125 FTM or 125 Tomb and are redeemable for a special edition, FTM-Pierre Gasly cap. Out of the collection of 500 NFTs, 25 will be randomly assigned "Golden NFT" status. These 25 will be redeemable for a signed mini-helmet in addition to the special edition cap.
Following Pierre's extremely successful inaugural drop on Fantom in October 2021, demand for the upcoming sale is expected to be high.
"I am really happy to continue my journey with Fantom and build on the success of our first NFT drop. For this second one, we wanted to launch an NFT collection that would summarize my career, and we decided to feature each of my helmet designs as unique NFTs. This way, the collection will keep building as I collaborate with designers and artists for my future helmets. Hopefully, some of those NFTs will become more valuable as I progress in my career. As for the first drop, we are linking tangible collectibles and VIP experience to the NFTs as we really see this as a new way to engage with the fan community and reward them for their support." Pierre Gasly, Formula 1™ Driver Scuderia AlphaTauri
"Pierre Gasly is among the most successful F1™ drivers, and Fantom could not be more excited to collaborate with him on his Helmet Series NFT collection. Gasly is an innovator and ground-breaker, being the first driver to launch an NFT collection last year. Along with Pierre, Fantom is keen to drive more interest and adoption to the ecosystem." Michael Kong, CEO Fantom
About Pierre Gasly
Pierre Gasly is a French racing driver competing in Formula 1™ with Scuderia AlphaTauri. At the age of just 24, Gasly won his first F1™ Grand Prix in 2020 at Monza, becoming the first Scuderia AlphaTauri race winner ever. Gasly carried that success into 2021, becoming the highest point scorer in Scuderia Alpha Tauri history, in a season capped by a memorable podium finish in Baku. Gasly is a fan favorite and features heavily in the Netflix Formula 1™ documentary Drive to Survive. Off the track, Pierre maintains varied interests and is a keen advocate for cryptocurrency adoption.
About Fantom
Fantom is a fast, scalable, and secure layer-1 EVM-compatible platform built on a permissionless aBFT consensus protocol. On Fantom, transactions are confirmed in seconds and cost just a few cents. Speed, low transaction costs, and high throughput make Fantom ideal for DeFi applications and real-world use-cases.
Website | Docs | Research papers | Discord | Telegram | Blog | Twitter | Reddit | Github