Updates
Fantom General Update | February 13, 2023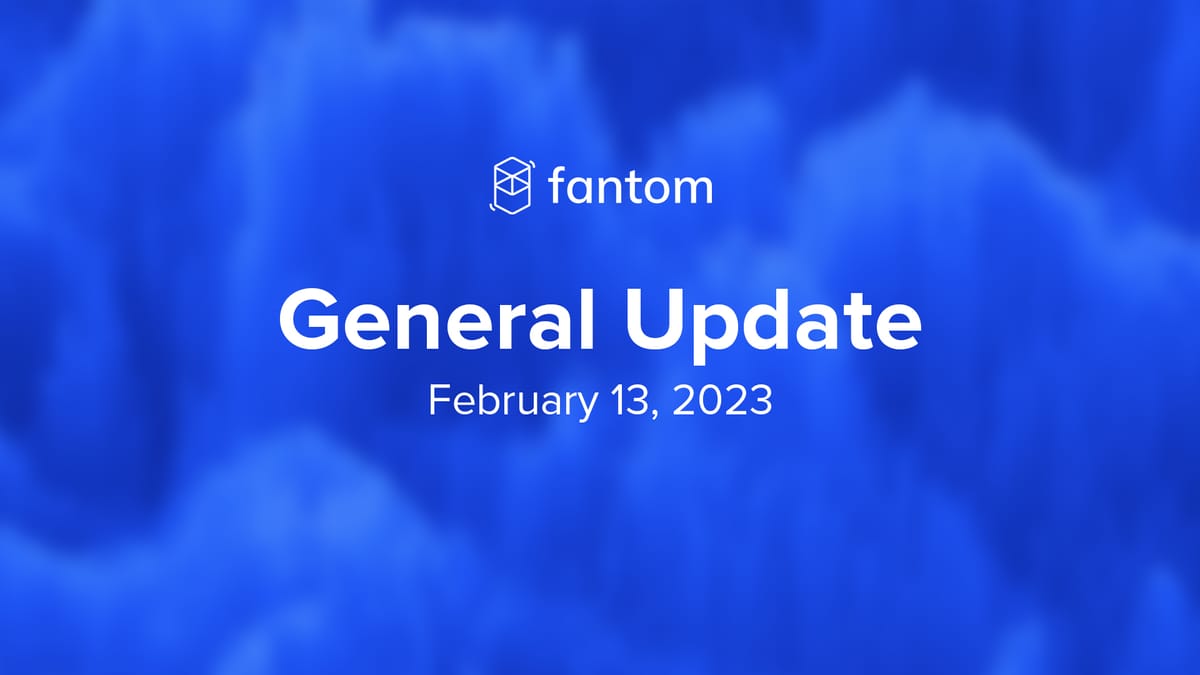 A month has passed since the previous general update, but not due to a lack of developments. On the contrary, the Fantom ecosystem has grown strongly over the last few weeks and has seen the announcements and releases of many exciting initiatives.
Join us as we recap the previous month in the Fantom world!
News and developments
Jan 19
The Ecosystem Vault launched on Fantom!
The Vault is a new fund aimed at empowering builders on Fantom by offering a decentralized avenue for funding projects, ideas, and creations through a community-driven decision process.
---
Jan 20
We brought back the Fantom Community Spotlight with a bang, featuring both Crypto Linn and Naly!
---
Jan 24
The PaintSwap Artist Summit was held from January 21 - 23 as a three-day event with everything from mixers and talks to tours of local museum exhibits.
The event was a utopia for artists as it had informative presentations on NFTs, contract deployment, collection curation, marketing, and more!
---
Jan 25
The Fantom Hackathon Q1 2023 officially opened for registration. $50,000 in prizes are up for grabs for the top-placing projects as judged by a panel of the Fantom team!

Account Abstraction was outlined for the first time, which is an upcoming upgrade to the Fantom network that aims to address some of the major drawbacks of the current account infrastructure on EVM networks by turning all wallets into smart contracts!
---
Jan 26
The Fantom Foundation team left their jackets, gloves, and stress at home as they flew to Miami to party, drink, and have fun… and of course, attend the 2023 Quantum Miami event.

The three-day event was full of talks, including the first public unveiling and breakdown of the Fantom Virtual Machine and new storage system; these upgrades theoretically will allow Fantom to handle 400 million daily transactions, and that's just in the testing phase!

A panel by our very own Michael, Simone, and Juan spoke on improving Fantom's unique consensus with a focus on optimizing performance, without compromising on security.

The co-founder of SoulSwap, Buns Enchantress, even held an in-person workshop on lending markets with Chainlink on Fantom!
---
Feb 1
Axelar and Squid brought cross-chain swaps to the SpookySwap DEX on Fantom! With one click, users can swap from one token to another across chains.
---
New integrations
GameFi
Station Zero X has strongly been pushing forward with their Final Cypher closed beta, which has included a bunch of exciting sneak peeks shared on Twitter!
8BIT Metaverse rebranded to 8PLAY.GAMES and shared a sneak peek of their upcoming run n' gun mobile game!
Estfor Kingdom is promising an epic adventure as they share a pre-alpha sneak peek of their game, which includes training skills, leveling up, and fighting monsters.
Vertical Blocks
Vertical Blocks, the one-stop place for everything blockchain, Fantom, and beyond, has been growing strongly with regular clips and video releases, including an episode hosting a blockchain lawyer!
On February 10, the first Fantom Edge episode was released, which was a short interview with Michael Kong, the CEO of the Fantom Foundation, in which he talked about the life of an L1 blockchain CEO!
Fantom Edge is a brand new Vertical Blocks series that aims to bring users quick, bite-sized stories across the many faces of blockchain.