Spotlight
Morphex — Fantom Ecosystem Spotlight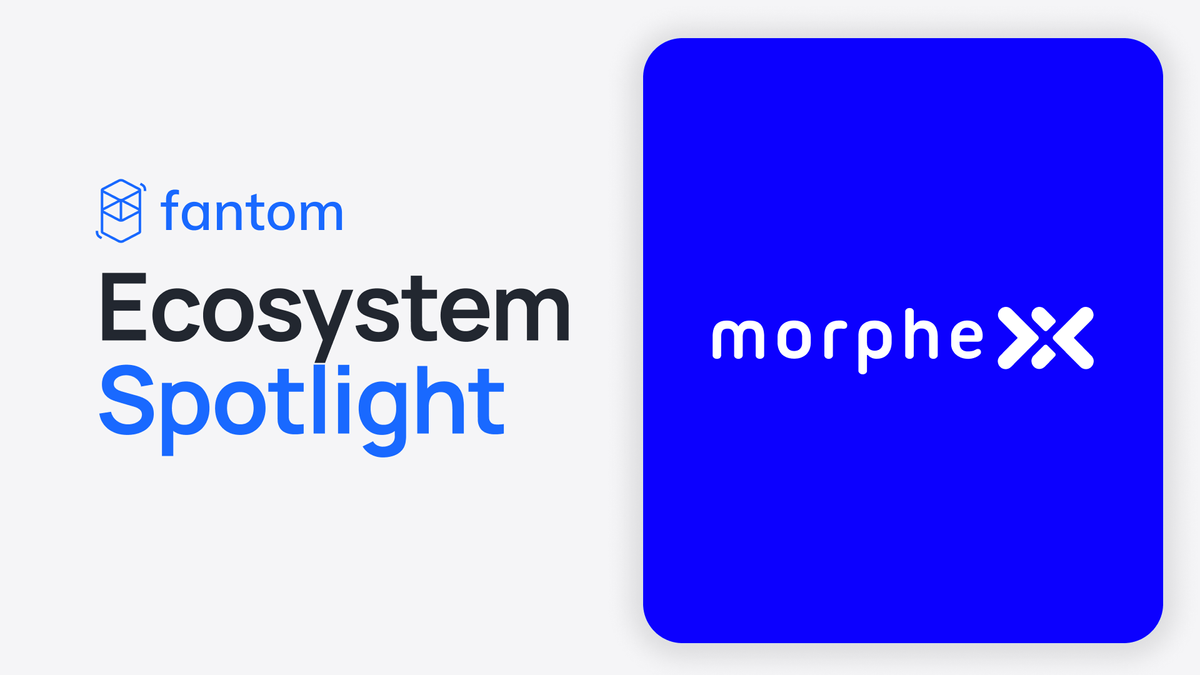 Welcome back to the Fantom Ecosystem Spotlight, where we present the many exciting projects on the Fantom platform. This time, we're featuring Morphex!
Read about its decentralized perpetual futures, how it rewards its liquidity providers and token holders, and its two-year journey on Fantom.
---
How would you explain Morphex to a stranger at a party?
Morphex is the leading decentralized perpetual futures trading platform on Fantom.
Think of a regular centralized exchange that allows you to trade spot and margin. Now, a decentralized exchange is similar but lets anyone earn rewards for providing liquidity, and a user can trade with just a wallet connection while retaining control over their assets.
---
Could you describe the main features of Morphex?
Aside from allowing users to trade spot and margin, a main feature of Morphex is the MLP token (Morphex Liquidity Pool), which represents the market-making liquidity pool of the platform and serves as the counterparty to leveraged traders — when traders are in profit, those profits are paid from MLP, and vice-versa.
Users can acquire MLP simply by using a blue-chip asset of their choice and visiting the "Liquidity" page on our website. They'll be able to view the different fees for minting with each asset and decide how they'd like to mint.
MLP consists of FTM and LayerZero/Axelar blue-chip assets such as BTC, ETH, and USDC, and allows users to earn relatively safe yield for providing liquidity. We're also one of the very few trading platforms that run weekly trading competitions where we distribute MPX, esMPX, and FTM for various categories such as top PnL and volume each week.
So far, over 70k FTM has been distributed to winning traders since inception, with all traders on the platform being eligible to win.
---
Why should a user choose Morphex over other DEXs?
Through our usage of Pyth and Chainlink oracles, we are able to provide reliable prices with low latency. Combining this with having no price impact on the exchange, Morphex is often offering better rates on spot swaps as well as more timely fills in leveraged positions.
Furthermore, we offer natively wrapped market-making liquidity (wMLP), which can be leveraged through borrowing/lending protocols or paired on other DEXs with tokens such as USDC to earn rewards.
This allows users to greatly improve their capital efficiency either by farming rewards on a DEX, more easily hedging their wMLP, adding additional directional bias, or simply increasing their yield by obtaining more wMLP by borrowing against their initial deposit on a money market.
---
How are liquidity providers and your token holders rewarded?
Our liquidity providers and governance token holders are rewarded with FTM and esMPX rewards.
60% of platform fees are distributed to liquidity providers who have staked their MLP tokens. 30% is distributed to users who have staked MPX, which is our governance token.

esMPX (escrowed MPX) is a reward token that offers users two options: they can either stake their esMPX for the same rewards distributed to MPX (30% of platform fees), or alternatively, they can vest their esMPX into MPX over a period of one year.
We also have a "boost" system for staking MPX or esMPX, where all users earn multiplier points that boost their FTM rewards; the longer a user has staked their tokens, the larger percentage of a reward boost they will have.
---
Let's hear about the team behind Morphex, what are your backgrounds?
Morpheus is the lead developer and founder of Morphex and also our previous project, Morpheus Swap. Dotcom is a seasoned DeFi advisor who has managed business development for numerous protocols.
InvestorX has previously done business development and managed the treasury for Comb Financial, and now at Morphex, he works on our marketing and social media strategy. We also have two more developers with previous experience in Web2 companies mostly: Crolev and nkmctsh, with one working on UI and the other on backend, as well as J, who is a community manager with previous experience moderating for the Yearn community.
In addition to the core team, we of course also have seasoned moderators assisting the community in our Discord and Telegram groups.
---
What inspired your decision to deploy on Fantom?
This traces back to September 2021 when Morpheus Swap was first deployed on Fantom. One factor to deploying back then was the announcement of the initial FTM grants given to protocols, incentivizing new protocols to begin deploying on Fantom.
In addition to that, Fantom has always been one of the most reliable chains to build on, with unmatched cheap transaction costs and confirmation times.
Fantom has always had a very understanding and motivating community, giving builders more confidence in experimenting with new ideas. With Morpheus Swap and Morphex, we've been able to experiment with various innovations throughout the past two years, improving upon proven models in DeFi for increased capital efficiency and better UI/UX for users. It's been a great and unforgettable experience building on Fantom.
---
Do you have a specific approach to smart contract security?
We take a very serious approach to smart contract security, with the core protocol being based on audited GMX code. Our wrapped MLP product has been peer reviewed by both Scream and Yearn developers to ensure safety.
Additionally, we have engaged Watchdog by Dedaub on Fantom to actively monitor our smart contracts with automated alerts set up.
---
Fast forward to the future of Morphex, what's in store?
On Fantom, we're working with a partner on the launch of a new lending protocol post-Multichain, where wMLP will be usable as collateral again, opening the door to leveraged yield and hedging strategies integrated with Morphex, as was pre-Multichain.
In addition, we continue to work alongside other strong partners such as FVM to bring new integrations as well as attract more users to use Fantom through our protocols.
---
Ever faced a major challenge with Morphex? How did you get past it?
I would say that the largest challenges during development were ensuring that the UI/UX on desktop and mobile was high quality and perfecting our keepers and backend. Many upgrades were done on our keepers to ensure faster position/order executions and improved gas handling.
Our UI took months of initial work, with many changes and upgrades continuing to be added as we hear feedback from users. One example was the recent upgrade of our home page to provide a better introduction to what Morphex is to a new user.
The key factor as to how we overcame these challenges lies in the selection of our fantastic developers on the team, who are always able to think of solutions and improvements that can be implemented.
---
What were your initial strategies to onboard more users?
We provide lengthy and informative guides on our social media so that readers can understand the "why" associated with everything Morphex. We found that this led to a better community understanding of our project, and combined with Zealy quests that reward active users, we were able to quite effectively market the launch of Morphex on Fantom.
To attract traders and to keep them on Morphex, we run weekly trading competitions for categories such as top PnL, top ROI, and trading volume.
---
Any hard decisions you had to make during development?
There were many ideas and features that we had in our minds already before launching, but to ensure a timely launch and that these features would indeed see traction, we implemented the MVP or Minimum Viable Product approach, releasing first only the core trading protocol, then continuing to build on top with new releases such as wMLP, Morphies NFTs, and more.
Personally, I tend to get sucked into new ideas and their details, so I had to ensure that we were all working on the top-priority tasks for development, leaving other ideas to be implemented in the future in a constant integration process.
---
Share a moment from your Morphex journey that stands out for you.
For me, the most memorable moment of working on Morphex would be the month leading up to the launch and the launch itself — it was a resurrection of the old protocol, and it was great to see many old and new community members appear with the same passion and excitement.
Overall, there have been many memorable moments over the past 2 years (if we include Morpheus Swap), but I think for any protocol team, it's hard to forget the adrenaline-packed 14-hour work days leading up to the main launch!
---
Last but not least, what are some challenges you foresee for the DeFi industry?
Adoption and regulation. To address adoption, the general UI/UX of using DeFi protocols needs to be improved upon.
This includes upgrades on the Fantom roadmap such as account abstraction, which would allow users to more easily interact with DeFi protocols like Morphex and not worry about acquiring gas since protocols could allow other tokens to be used for gas or subsidize a % of user transactions to pay for gas in an effort to further increase adoption.