Spotlight
LaborX — Fantom Ecosystem Spotlight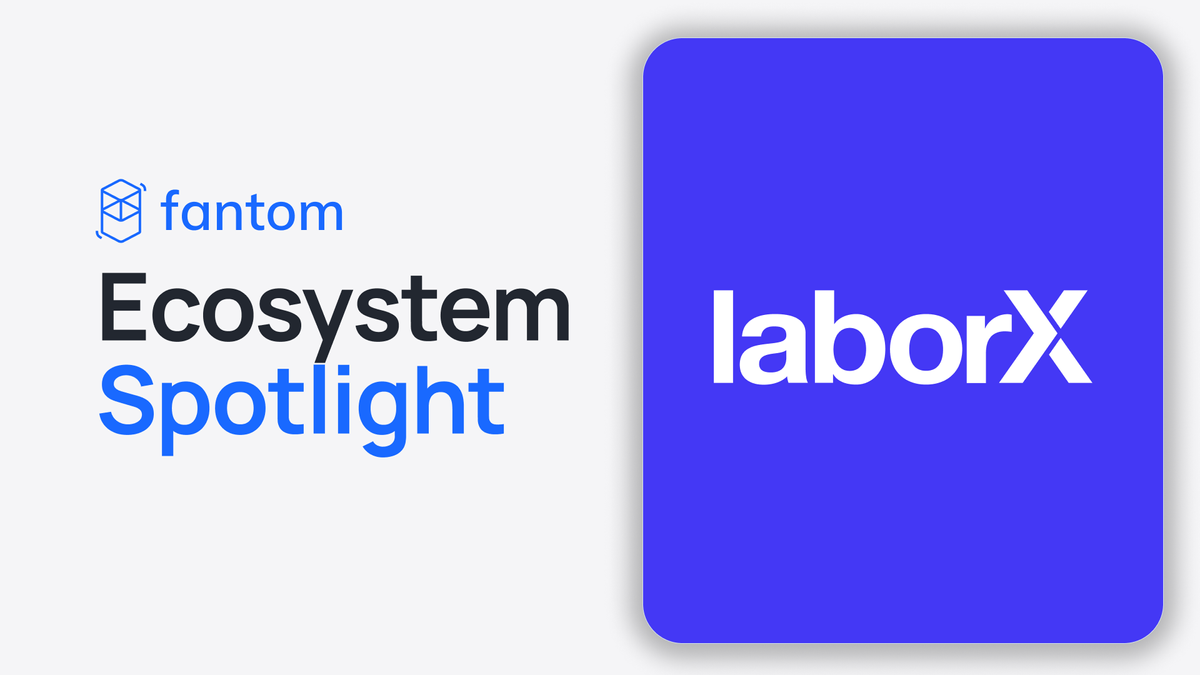 Welcome back to the Fantom Ecosystem Spotlight, where we present the many exciting projects on the Fantom platform. This time, we're featuring LaborX!
Read about their blockchain-based jobs platform, how they leverage smart contracts to match freelancers with clients securely, and their reasons for adding FTM as a payment option.
---
How would you explain LaborX to a stranger at a party?
LaborX is a blockchain-based jobs platform that helps clients connect with freelancers from a global pool of Web3 talent, directly and with no middlemen. We provide efficient transactions with cryptocurrency and robust protection through digital contracts — wherever you're based!
---
Could you describe the main features of LaborX?
LaborX prides itself on offering the following benefits to our users:
Low Commission
While popular freelancing platforms charge users as much as 20%, our blockchain-based decentralised approach means our commissions are as low as 10% for Freelancers and 0% for Customers.

Crypto Payments
LaborX supports a range of popular tokens on the Ethereum, BNB Chain, Fantom, TRON, and Polygon networks, providing fast, efficient settlement between Customers and Freelancers anywhere in the world.

Smart Contracts
Smart contracts allow you to set the conditions of how you'll work together, including deadlines and any payment terms. This financial engagement is protected through digital escrow by locking in all funds once the contract is signed, and releasing them automatically once the work has been completed and accepted.

Reputation
The 'Reputation' module protects users while providing a feedback system to help select the best Freelancers and Clients. Our algorithm accounts for factors such as previous experience and education, reviews, completed contracts, and more. Variables are weighted according to their importance and overall relevance.
---
In what ways does LaborX stand out from other job platforms?
As opposed to traditional job platforms, LaborX allows for both freelance and full-time connections to be made. We also allow our users to receive payment in the cryptocurrency of their choosing.
In relation to other Web3-based job platforms, we lead the charge in smart contract agreements, ensuring robust protection for both employers and talent alike.
Currently, LaborX has acquired over 150,000 registered users, forming a diverse base of Web3 talent.
Throughout the remainder of 2023, we are working diligently on forming strong partnerships with industry leaders in the space, to both expand our customer base and integrate their tech where appropriate.
---
Can you walk us through the safeguards LaborX employs for funds and disputes?
Our smart contracts are signed at the beginning of each and every arrangement that occurs through our platform. Once signed, the funds for the task are deposited into escrow from the client, ensuring for safe and secure payment upon satisfactory completion of the job.
When disputes arise, we have a dedicated dispute resolution team that settles the matter, with the ability to divide funds in any way that is determined to be fair and equitable. We use LaborX's built-in messaging system to determine whether each party has fulfilled their obligations. This not only allows for complete payments or refunds, but also split and partial payments, depending on the circumstances.
---
Shed some light on the TIME token and its utility within LaborX.
The TIME token is the native currency of the LaborX (and Chrono.tech) ecosystem. Whenever a task is completed and payment is made, LaborX converts the platform fee into TIME.
These TIME tokens are distributed between LaborX Freelancers, Customers, and other Chrono.tech stakeholders. This process is called Job Mining. By staking TIME tokens through the TimeWarp smart contract, the LaborX Premium program can be accessed.
LaborX Premium Account benefits include:
Rebates on the platform fees charged to Freelancers (paid in TIME tokens)
TIME cashback bonuses for Customers
Referral bonuses for introducing new users to LaborX
Highlighting and priority placement in the search results for Customers and Freelancers
Premium Accounts operate on a tiered system based on the amount of TIME staked, meaning anyone can join, while the advantages increase for higher tier members.
---
Let's hear about the team behind LaborX, what are your backgrounds?
Our blockchain team is a global force of experts in Development, Marketing, Community Engagement, and Innovation Research. With over 20 dedicated professionals worldwide, we share a passion for blockchain technology and its evolution.
Our Development team, led by experienced blockchain developers with over 5 years of hands-on experience, forms the core of our solutions.
Sergey Sergienko, our visionary leader and Australian serial entrepreneur and investor, drives our success with his unwavering dedication to blockchain technology.
Together, we are shaping the future of blockchain technology on a global scale.
---
What inspired your decision to include FTM as a payment option?
As a fast and scalable next-gen Layer-1 platform, Fantom stood out to us as an industry leader remaining steadfast through bearish conditions. Given its longevity and commitment to the cause, it only made sense to integrate FTM as a payment method within our platform to serve the masses with a token that is sure to remain in high demand.
---
Fast forward to the future of LaborX, what's in store?
The future of LaborX revolves around 2 major themes: automation and AI integration.
We have already begun integrating AI assistance into our platform, allowing clients to streamline their job creation process through AI prompting. We're now in the process of solidifying algorithms to have AI accurately match clients with potential talent based on skill set, previous experience and past reputation. Coupling this with our upcoming 'Recruitment' module, where we have a representative personally assist in your talent acquisition, our clients will receive the best of both worlds with streamlined AI automation and a personalised touch.
Users will also soon have the opportunity to set up a subscription for long-term arrangements, allowing invoices to be paid automatically, if they don't want to do it manually. This system will use a smart contract between the employer and employee containing information on wages, payment dates, and other restrictions or conditions, if applicable. This will also allow employers to 'stream' the salary in real-time; every second during work hours, a fraction of the salary is unlocked. This way, an employee will be able to claim their wages whenever they want!
One final exciting addition is the token vesting system, inspired by Chrono.Tech's own automated and highly efficient in-house practices. Many Web3 organisations offer payments in their platform's native token as a bonus for time spent with the company. These are typically paid at intervals of several months. The vesting system allocates a pool of tokens that, like salary payments, are consistently distributed to a user's claimable balance over time, providing further incentives for working with the organisation.
---
Ever hit a major roadblock with LaborX? How did you get past it?
As with every company growing through the early days of the crypto explosion, we've seen and gone through many a crypto winter. With long periods of bearish conditions, we've had to learn how to adapt to the market, both from a public standpoint, and also privately in how we operate as a team.
Overall, this prepared us to deal with the challenges of the bear market, allowing us to be primed and ready to propel our growth publically with the return of bullish conditions.
---
Share a moment from your LaborX journey that stands out for you.
The most memorable moment for us as a team has been seeing public testimonials from our newest users. Seeing them face difficulties through other platforms, whether it be based on payment issues or geographical restriction, and then watching them earn their first payment through LaborX, now having the ability to earn a living through our platform, is a priceless experience we hold with us dearly.
---
Last but not least, what are some challenges you foresee for the blockchain industry?
The biggest challenges we see holding back the explosion of the blockchain industry predominantly revolve around integration and scalability. Once the tech reaches a point where users do not actively realise they are interacting with blockchain technology and are merely enjoying the benefits of its integration, we will likely hit a point of mass adoption. This, however, can only be achieved by the optimisation of appropriate scaling solutions to manage costs while increasing throughput.