Spotlight
Fantom Ecosystem Spotlight – Tortle Ninja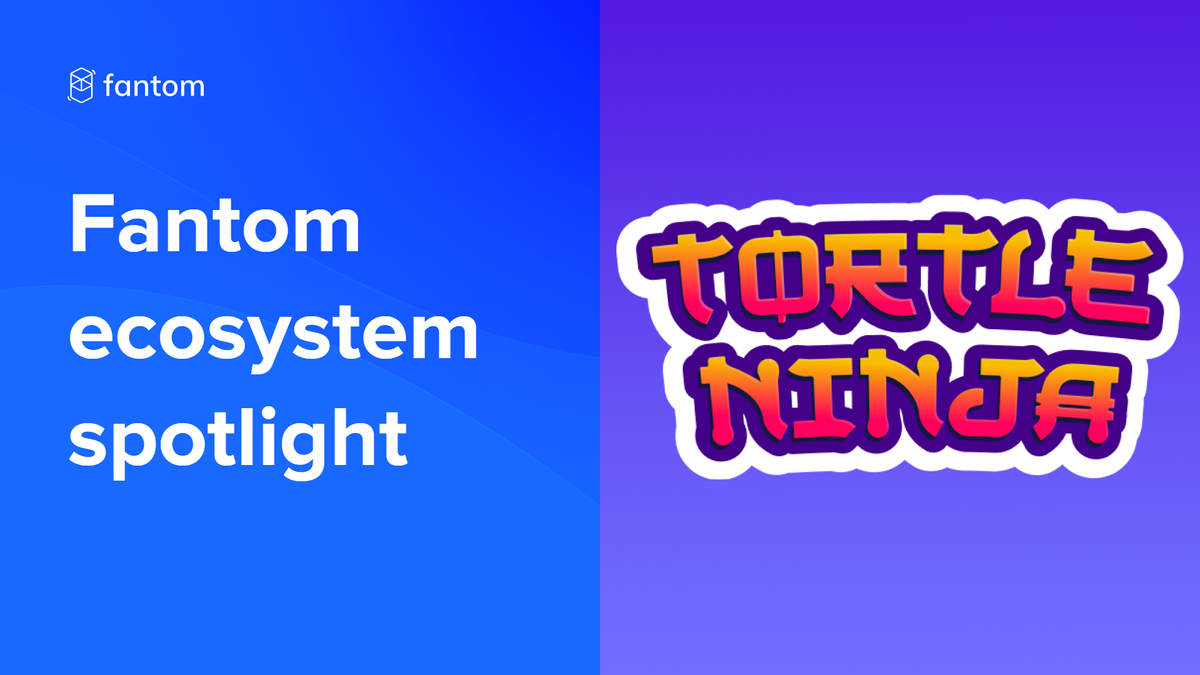 Would you mess with the sword-wielding figure on the Tortle Ninja website? We wouldn't either. But follow us through this deep dive into all things Tortle Ninja, and you'll understand that the sword targets old-school banking and the clunky DeFi protocols that limit user experience.
Think "visual interface for customizable DeFi." Tortle Ninja provides users with easy-to-use tools to create complex DeFi strategies.
1. What is Tortle Ninja?
Tortle Ninja started as a kind of DeFi meta aggregation tool, but now it's more of a visual language programming tool for DeFi.
On Tortle, you can program recipes that work like bots, changing a Defi strategy as market conditions evolve.
Tortle has another layer, the analytical one: user-composed recipes in Tortle create a huge amount of data you can analyze to see if strategies behave as expected.
2. How do you introduce Tortle Ninja to a DeFi novice?
It's a tool to automate, simplify, and understand DeFi. On Tortle, you can farm, trade, and access DeFi opportunities in a framework that simplifies even the most complex strategies.
3. How did you come up with Tortle Ninja, and what inspired you?
For reference, I could say that Yearn Finance, Chainlink, and Furucombo encouraged me to start on DeFi. I began with experiments creating small trading bots for DeFi.
I then realized how easy it was to compose transactions using the EVM and, simultaneously, how time-consuming it was to learn and effectively use modern DeFi tools. After convincing my team to do a Proof of Concept, we just started looking for funding, and well, the rest is what leads us here.
4. What makes Tortle Ninja different from other DeFi tools?
We have created one of the most sophisticated suites of DeFi tools.
On Tortle, you can develop simple and complex strategies mixing price feeds, liquidity pools, farms, vaults, and more. There is no other tool like this on the market.
Along with the execution of recipes, Tortle's analysis frameworks let you consult, moment by moment, the entire performance of any recipe.
In short, users can access levels of information unavailable on any other platform or source.
5 Can you describe a complex DeFi strategy only possible on Tortle Ninja?
A complex strategy that we simplify is the Farming on Stables recipe.
Using this strategy, you can farm stables on SpookySwap, on different pools, including USDC, DAI, USDT, MIM, or MiMATIC. You can farm, earn fees and reward tokens, auto compound the rewards, and stop farming in case of a depeg.
All this is done in a single interface with just 5 clicks. Tortle automates everything.
Another strategy enables you to use your FTM to start farming simultaneously on different farms, auto-harvest the rewards, stake them to obtain different reward tokens, and reinvest them as principal on another farm.
Alongside this, you can set up a condition to move all holdings to stables if the values of specific tokens cross user-defined thresholds.
The great thing about Tortle is that you can clone any recipe and evolve or refine it to improve the strategy.
6. What are the team members' backgrounds?
The core team has been working together at Glue Digital, where we have been making software related to security, cryptography, Fintech, Insurtech, and retail for some years.
Working with companies like eBay, Carrefour, Securitas, KFC, Paypal, and AXA, we have experience delivering a great tech stack.
It's not that we have massive experience with DeFi ‒ nobody has ‒ but we know all the primitives behind the technology, so building a powerful, easy-to-use DeFi product has been smooth.
7. How did you learn about Fantom?
I read an article about aBFT (Asynchronous Byzantine Fault Tolerance). The first time I heard about Fantom, I was extremely impressed, as the technology can trigger a new generation of DeFi products.
DeFi is still in its first stages, in my opinion, and there's a lot more to come.  DeFi is all about composability on fast, reliable, and cost-effective L1s ‒ Fantom is a key platform in the present and the future of DeFi.
8. Why did you decide to build on Fantom?
My first experiments were done on BSC, as it's a vast playground. But then Joel, the investor/advisor who joined us, told me to build on Fantom.
For Tortle, having 100% uptime, fast speed, and cheap gas prices is extremely important. Aside from all of this, the community of builders on Fantom continues to be exceptional.
9. How did the Fantom community receive Tortle Ninja?
They have been outstanding! We have a fantastic community of Fantom users and rely on several important partners in the ecosystem, including SpookySwap and Chainlink. Both the users and projects we work with are incredibly supportive.
10. What's coming up for Tortle Ninja? Free alpha!
Our team is working hard to deliver new features. Currently, we are working on a new integration with another DEX and a range of combo triggers that enable DCA strategies, social sentiment analysis, and nested strategies, which are protocol-related strategies composable on Tortle.
11. Where does DeFi go from here?
That's a great question; let me say that no one can predict the future, but DeFi is now at a crossroads. We must build a new generation of products and services and improve on what currently exists. Personally, I'm betting on 5 areas:
Composability ‒ Granted, composability is at the core of Tortle Ninja. But more generally, I believe that composability will become increasingly important and that combining DeFi primitives will be a necessary feature of applications in the space.
Bonds and Obligations ‒ In my opinion, as catalysts that could transform fundraising and incentive programs, these could be the trigger for a new generation of projects and protocols. Tortle Ninja is currently working on related tools in this area.
Fixed Rates ‒ Fixed Rates are a huge asset class in TradFi, and can be done better in DeFi. I believe this will soon be a significant growth area.
Zero Knowledge Proof related products ‒ Even if hard to deploy, Zero Knowledge Proofs will, in my opinion, be an essential part of the future of financial services. Especially in credit markets, ZKP can make credit scoring and proof of identity irrelevant, which could bring financial inclusion to a new level.
Carbon-negative Protocols and networks ‒ Capitalism and TradFi have various flaws, including their unsustainable consumption of natural resources. If we are to have a future, we need to transition to carbon-negative protocols and networks.
Engage with Tortle Ninja