Spotlight
Fantom Ecosystem Spotlight – SpiritSwap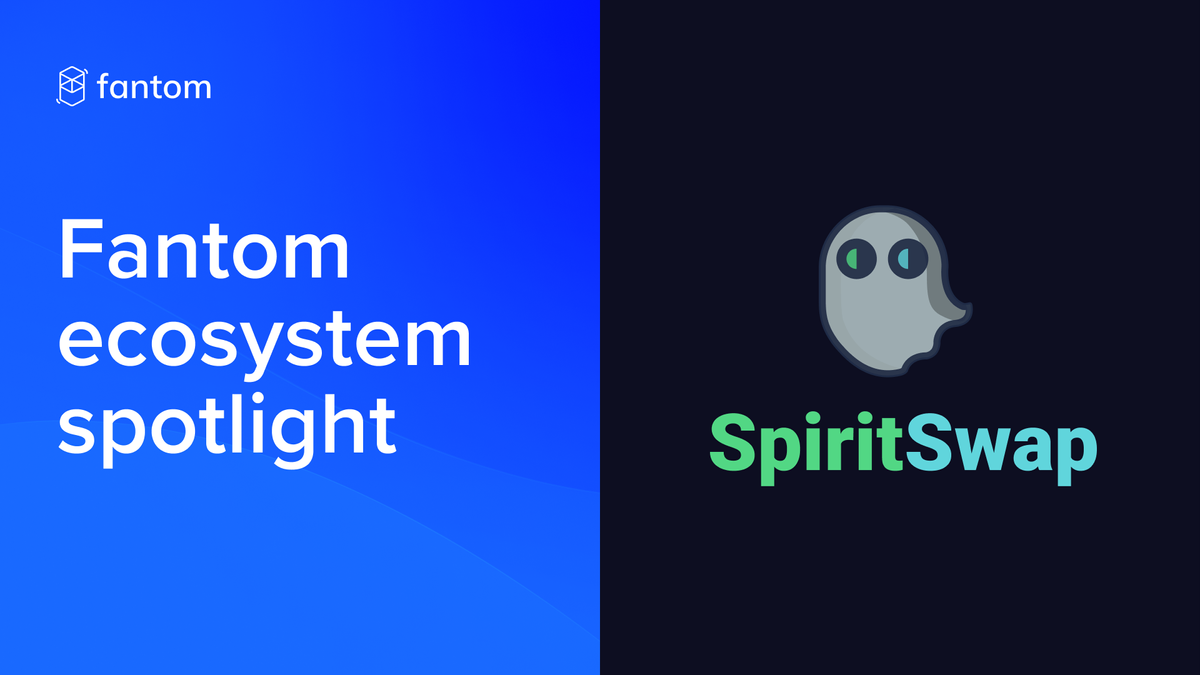 In the rapidly evolving Fantom ecosystem, SpiritSwap have perhaps attained the status of "OG" on the network – they were, after all, one of the first native-Fantom DeFi projects.
Venerated OGs or not, this dynamic, talented, and, pardon the pun, spirited team don't seem to stop. To date, we've counted innumerable UI updates and at least two major SpiritSwap platform upgrades, including the implementation of inSpirit staking and a sleek, easy-to-use bridge.
If you've had the chance to meet them or to watch any of their interviews with FTM alerts, you'll also know that they are open, down-to-earth, and an integral part of what makes the Fantom community so different from all the rest.
Alongside the incredible work they are putting into their project, this dynamic team found time to participate in this week's spotlight, and we're incredibly excited to feature them.
1. What is SpiritSwap?
SpiritSwap is a decentralized exchange (DEX) on the Fantom Opera Network. Traders can easily swap between tokens within our application and get guaranteed rates for the swaps.
Each swap on SpiritSwap incurs a fee, which gets distributed between liquidity providers and is used to buy back SPIRIT tokens at market rate, which is then distributed to inSPIRIT holders.
While offering lightning fast swaps at an affordable rate, SpiritSwap is moving toward becoming a full DeFi suite, offering users different strategies to manage their cryptocurrency assets.
SpiritSwap's key features include Zap, inSPIRIT, boosted farms, lending, borrowing, leverage trading, and a cross chain bridge (soon to be a bridge aggregator).
This  bridge includes an inbuilt faucet for first time Fantom users. If a user is new to Fantom, in other words if they have no previous transactions in their wallet, they will automatically get 0.4FTM in their wallet after they use our bridge to transfer funds. This faucet is intended to offset gas fees for the first few trades that new users might wish to make.
Our team is focused on building out a protocol to become more than just a DEX, but rather a HUB of all things DeFi on Fantom.
2. How do you introduce SpiritSwap to a novice, or someone who knows relatively little about DeFi?
SpiritSwap is a place where you can swap and trade cryptocurrency on Fantom, one of the quickest and cheapest networks that crypto has to offer.
On top of swapping and trading tokens, users also have the opportunity to put their assets to work on our protocol and earn a passive income by lending their capital to us for use as liquidity on our exchange.
3. How did you come up with SpiritSwap/what was your inspiration?
Being early adopters of Fantom, the team were looking for opportunities to offer growth potential to the ecosystem.
We found the concept of offering capital efficiency via the ability to mint the stable coin fUSD with sFTM as collateral a very interesting model, but with fUSD unable to achieve peg, that the DeFi ecosystem was stalling.
What Fantom needed to kickstart growth and development was a robust DeFi ecosystem and the center of this revolves around the requirement for a functional exchange.
We spotted a gap in the market and decided to deploy a DEX to bootstrap liquidity on Fantom and help establish a runway for DeFi to thrive.
4. What's your background?
CTO - Is a blockchaindeveloper at a large tech company
CEO - Has a background in video game programming and web development at Microsoft
CFO - Is an accountant by training working at a well-known, big brand accounting firm
CIO - DeFi degenerate to the max. Has been in DeFi since inception, and has an expert level understanding on DeFi systems and economics
COO - Comes from a background in business development and team management, having worked for large well known marketing firms for the last 15 years.
5. Why did you decide to build on Fantom?
Simply because Fantom is fast, with low transaction fees, and built by a superb team.
While the community was not large upon SpiritSwap's conception, it is now a flourishing ecosystem with amazingly supportive people. So, if you are looking to build on Fantom we say it's a no brainer.
6. How did you learn about Fantom?
The team members were early adopters of Fantom to begin with.
Being active members of the crypto community for some years prior to Fantom existing meant the team truly had their finger on the pulse of emerging Layer 1 protocols.
Fantom stood out to us because of their DAG application, and the throughput/scalability potential that Fantom had to offer solved so many problems that the Etherium ecosystem was experiencing.
7. How was your experience of building on Fantom?
The main thing we noticed about building on Fantom is that teams in the space are always open to talking and collaborating with each other.
Yes, there should be a benefit to both teams, but there are infinite ways to collaborate and bring value to all.
For us the two factors that stood out were support (from the Foundation) and community (being tight knit and engaged).
8. What brings you to DeFi and what excites you most about the space?
We see DeFi and crypto as a whole being a major catalyst to separate state and finance.
We want to give people more options over and above conventional finance to manage their assets in a decentralized manner.
What excites us most about DeFi is that we are only just scratching the surface of how DeFi can be applied to offer more empowerment and control over personal assets.
Concentrating liquidity and improving capital efficiency for our users is our next main focus, truly honing in on DeFi 2.0.
9. How did the community receive SpiritSwap?
Just like any project at first, the community was skeptical since the team was anonymous and we were so new.
Over time we doxxed ourselves to the community and also went through a successful audit.
Now we have established a robust community of loyal users who are extremely engaged and enjoy participating in everything our ecosystem has to offer.
10. What's coming up for SpiritSwap? Free alpha!
These are just some of the things that we're working on:
Leverage trading
Professional UI revamp
Bridge (adding more chains)
Lottery
Lending/borrowing using LPs as collateral
11. What would you like to say to fellow developers who haven't started building on Fantom yet?
If you are looking for an EVM compatible chain and want to build in an ever growing DeFi ecosystem, then Fantom is a great place to begin your project or even bridge your project over to.
SpiritSwap will always be open to talking with you and your project about joining our launchpad or even generic advice.
We are here to help new project launches and existing projects to make their way to Fantom. Lines of communication are always open.
Engage with SpiritSwap at: