Spotlight
Fantom Ecosystem Spotlight – Pumpkittens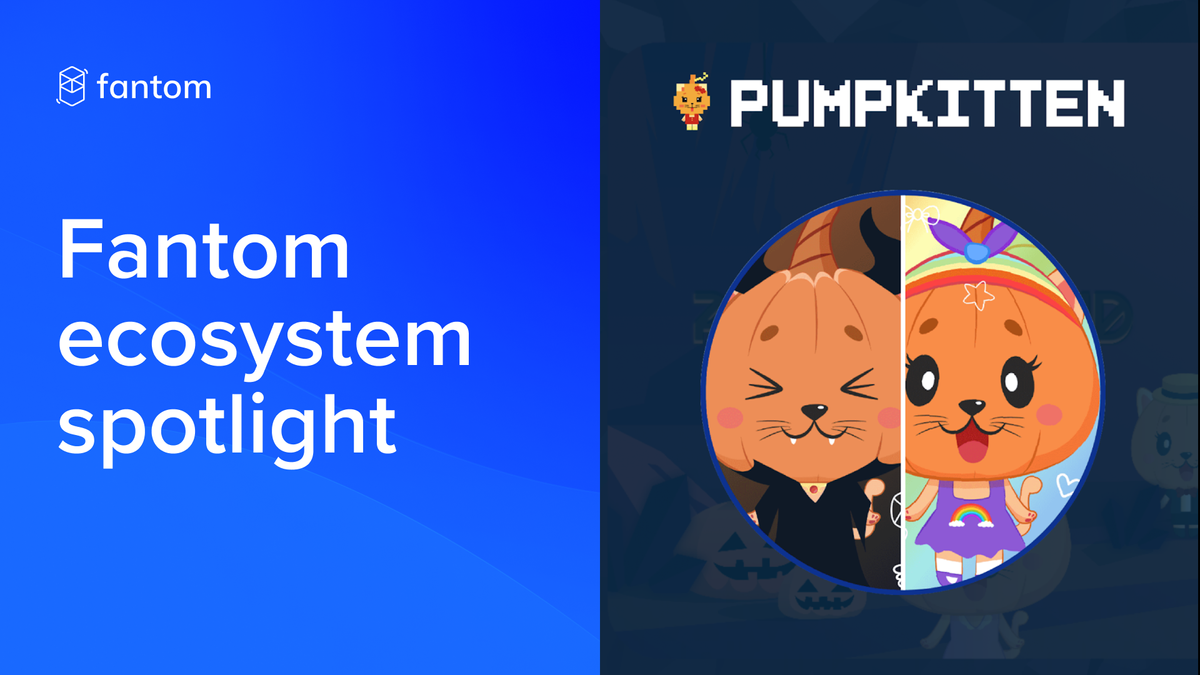 Three creative designers meet an ambitious developer: the Pumpkittens story will be remembered for a long time in the Fantom community.
From their initial, limited NFT offering, this project has grown to occupy a place at the vanguard of GameFi-NFT projects in the Fantom ecosystem.
We're humbled to have them as members of the ecosystem and thrilled to watch them as they innovate across GameFi and NFTs.
1. How did you get into NFTs?
Early on, we had the idea of creating an original and limited NFT collection that adds value to the NFT space.
But to be honest, we didn't have the confidence to do it. Especially since most of the successful collections on Ethereum were created by known artists, had investor support, or were backed by teams with experience in DeFi.
We didn't have any of this, and the NFT space on Ethereum looked saturated and competitive. For newcomers like us, it wasn't a supportive or accessible environment.
During this somewhat uncertain time, we read an article in Entrepreneur Magazine about layer-1 solutions that are changing DeFi. We were, of course, already familiar with Fantom, but this article highlighted the inclusiveness of the supportive Fantom ecosystem.
We moved to explore Fantom, and it's fair to say that the article is absolutely accurate.
New and relatively unknown teams were building good projects on Fantom, and they were doing well. It was great to see platforms being built just with community support.
That's when we decided to launch our project on Fantom, and the rest is history.
Today, the reason we are being featured in the spotlight and talking to the Foundation about our project is Fantom and Fantom alone.
2. What are Pumpkittens, and what was the inspiration behind them? What can you tell us about your different collections (PumpKittens, SamuraiKittens, BitKittens)?
As we mentioned above, we were inspired to bring something original to the NFT space on Fantom – something that wasn't a copy or derivative of a project on another chain.
So the idea was born to transform Pumpkins and Kittens into Pumpkittens. Our project was just a one-off collection, just the 100 Pumpkittens NFTs, and that was it. But then, Fantom did something wonderful, and we expanded.
We were just a few designers – not even artists – with no DeFi experience or technical background who came to Fantom seeking help to bring our project to life. We approached a developer, who goes by the name Hiro, who was already building a project that uses NFT technology to build an FTM rewarding DeFi lottery on Fantom.
Our meeting changed everything.
Hiro transformed the project to what we see now: a GameFi and NFT project that is the first to introduce a collectors' revenue program, with new collections, use cases, a GameFi token, and more. Our small 100 NFT project grew into a platform with great potential.
Five new collections were added to the project once it adopted GameFi, starting with BitKittens, then Samurai Kittens, Ancien Kittens, Daemon Kittens, and there will be one Last Kitten collection which will be dropped by Feb 2022.
The GameFi will have NFT elements either dropped in as collections or available on the GameFi to mint as the project expands.
50% of all revenue goes to the collectors of OG Pumpkittens. Not just that, all NFT Kittens will have earning potential in the GameFi platform ‒ there will be NFT farming, breed-to-earn, win-to-earn, and play-to-earn DeFi strategies.
3. What would you say to someone who knows little or even nothing about Pumpkittens?
Pumpkittens project is one of a kind.
Not just because the OG NFTs (the first 100 Pumpkitten NFTs go by the name OG Pumpkittens now) is an original concept, but because it is the first NFT project on Fantom that introduced the collectors' revenue sharing concept. This is a new use case for NFTs beyond simply being a collector's item.
That's why Pumpkitten NFTs were the first in Fantom to achieve so many milestones; the NFTs that dropped starting at just 200 FTM are now being traded and $35k to $45k.
Even at that price, only a few are available on the market. Our collectors don't want to sell because of the benefits and earning potential of holding them.
So far, the collectors have received about $300k in revenue, and our GameFi hasn't even been built yet. There's a long way to go, but it's fair to say that both the project and its NFTs have great potential.
For someone unfamiliar with our project, this abstract visual will give a quick idea of our roadmap and everything that goes into the project.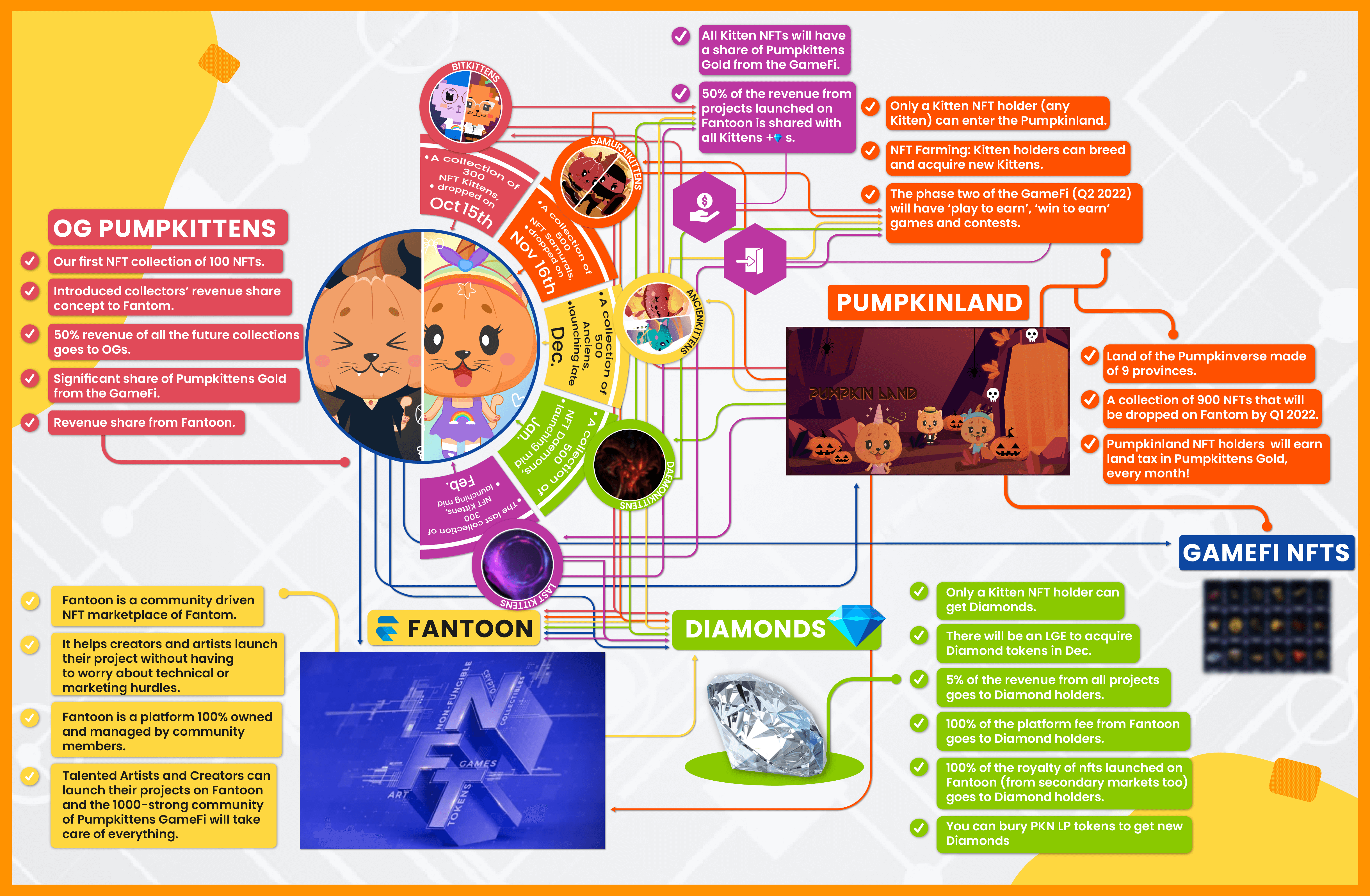 And for those who are interested, we have more detailed documentation at: https://docs.pumpkitten.com.
4. What can you tell us about the PumpKittens team? What are your backgrounds? What should we know about you?
Our team is led by Hiro and split into three groups: three designers (from India, Vietnam, and Russia), three developers on the tech side (in Dubai), and our 1000-strong community.
Hiro leads the project and builds with the support of our community, which is involved at every step of the way.
Unlike other projects, we are proud to say that our community is our team.
From decision-making to marketing, they play a crucial role in everything. Our Discord server is where many of the discussions happen.
5. How did you discover Fantom? What do you like about Fantom?
We mentioned earlier how we started with Fantom. What we like most about Fantom is the idea of inclusivity it brings and the approach of building community-centric projects.
In our opinion, Fantom is the only chain where any developer or creator with a desire to create can come and successfully build their project.
This is because Fantom's community is exceptional.  We aren't just saying this – it's the truth. If you bring a good project to the community, they will support making it happen. This is a Fantom-only thing.
Apart from that, Fantom being the fastest blockchain with the lowest transaction fees helps all the projects built on the ecosystem.
Transactions are so quick with very low fees, making Fantom the best network to build GameFi projects, especially if your game depends on real-time events/transactions for a smooth user experience. Such high performance is impossible on any other chain.
6. How is the reception from the community?
Our project's history is a great example of how Fantom's community receives a good project, even if the team and people behind it are unknown.
Projects on Fantom need nothing but transparency, commitment, and a strong desire to build. Fulfill these requirements, and the community will support you, even in the most bearish market cycles.
We had exceptional reception. Everyone was so supportive. We are so grateful for the community's support.
Our project had no marketing, no ads, giveaways, or funds for promos. The community built our project. Like we mentioned above, Fantom's community is exceptional; if you build for them, they will support you all the way to the top.
7. What is it like working on Fantom compared to other chains?
Not sure how to answer this one, as we have no experience with any other chains except Fantom.
We do have plans to go cross-chain, but that's a long way off, and we will always be a Fantom-first project :)
8. Can you tell us anything about what you're working on now?
The UI for the GameFi is the biggest thing we are working on.
It's much more complicated than initially planned, but we are optimistic that we'll finish the beta by Q1 next year. It is packed with features, from NFT farming to breeding and other GameFi concepts; it will be truly special.
We are also building something for the up-and-coming creators and artists who would like to launch their NFT projects on Fantom, called Fantoon.
It's a community-owned and operated NFT launchpad. Creators and artists won't have to worry about the technical side and marketing.
They can focus on what they do best, and the Fantoon and Pumpkittens community will take care of everything else from launch to marketing.
Unlike other platforms out there, when creators launch on Fantoon, they will have their own tokens, themed minting pages, and all required resources; Fantoon will be more like a vessel that's helping them launch and succeed.
Three awesome projects are already in the works, and one is inspired by ancient art from the Himalayas. We'll release more details soon.
9. You mentioned in a tweet that you had little technical and marketing background when you started working on Fantom. What advice do you have for new devs/artists in a similar place as you when you started?
Ask for help.
This is special to Fantom. If you seek help, it will be provided.
We can't comment on other chains but look at us. We demonstrate what's possible by reaching out and asking for help.
Projects and teams on help are happy to assist. They know the importance of nurturing new projects to help expand the ecosystem.
10. Is there anything we forgot to ask that you'd like to add? Please feel free to share below:
There's definitely a lot more to come from us.
Thank you again for the wonderful opportunity. The level of Foundation support to its projects makes a great difference to teams working on Fantom and sets an excellent example for other L1 platforms.
Engage with Pumpkittens at: