Spotlight
Fantom Ecosystem Spotlight – 8BIT World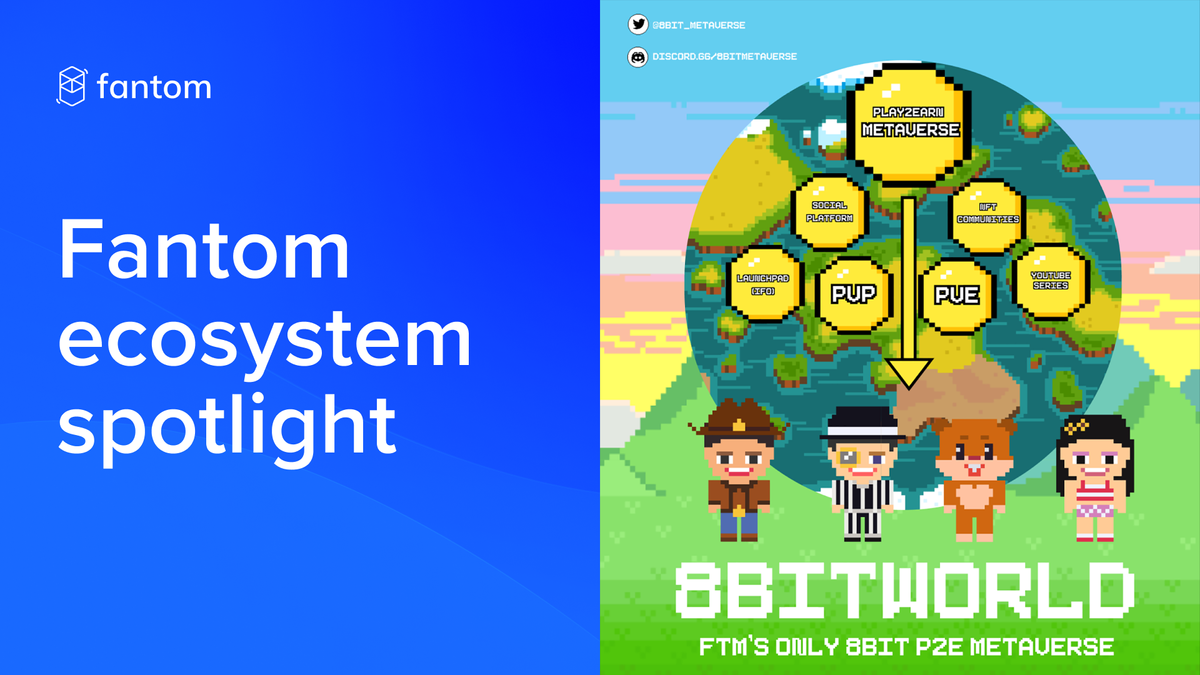 Life in 8-bits never looked so good. 8BIT World is laying the path to the Metaverse on Fantom.
Having built the basics ‒ parcels of wonderfully designed lands and Netizen avatars ‒ the 8BIT World team is creating a massive virtual world to enable users to enjoy P2E opportunities, learn about and join the communities of new projects, access DeFi, and more.
All this, packaged in a slick, retro-cool vibe. As blockchain and the Metaverse converge, 8BIT World is a project to follow.
1. What would you say to someone who knows little or even nothing about 8BIT World?
8BIT World is a play-to-earn (P2E) metaverse that enables players to complete quests and play a wide variety of games while earning tokens. Players can also own 8BIT lands and passively farm tokens. 8BIT World is backed by a social platform that aims to connect players, NFT communities, and cryptocurrency projects building on the 8BIT metaverse. Ultimately, the 8BIT World metaverse additionally provides a launchpad for projects and NFT artists looking for a community boost to launch on Fantom Network. Tokens can be used to buy in-game items, breed Netizens, upvote and advertise on 8BIT's social platform, and participate in the launchpad.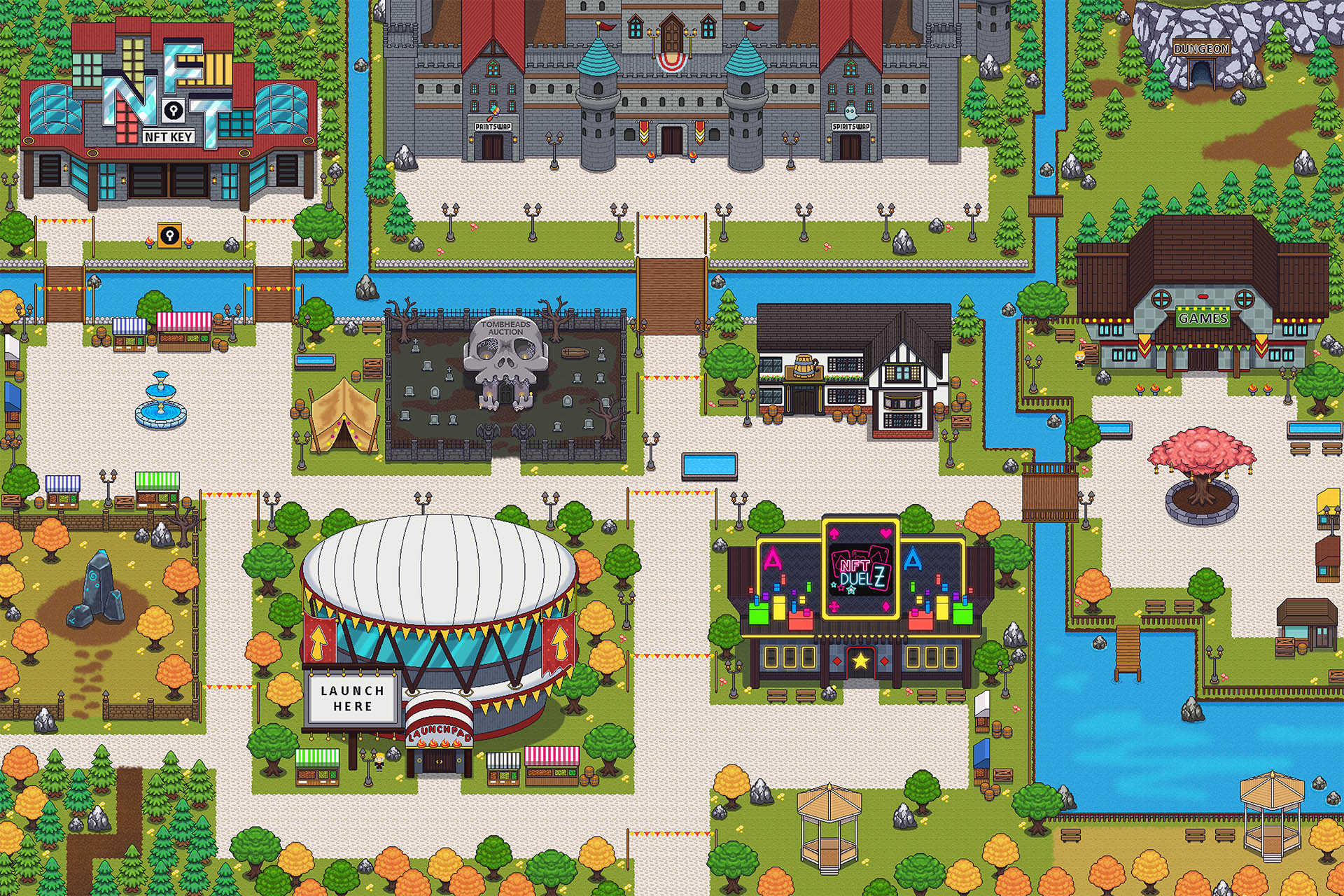 2. Can you tell us about the 8BIT World Netizens and lands collections? What was your inspiration?
Remember back in the day when you were sitting on your 1990s game console for hours playing Zelda, Contra, Pokemon, etc.? Life was a bit simpler back then when all you would think about was finishing the game. Our central theme revolves around feelings of nostalgia; we wanted to bring back the memories of the 90s by providing an open world 8BIT metaverse.
3. What can you tell us about the 8BIT WORLD team? What are your backgrounds? What should we know about you?
The core team comprises professionals who have worked in major projects across the cryptoverse ‒ many of which are listed in the top 100 of Coinmarketcap.Currently, we have 57 full-time game designers working across two departments:1. Environment design and world-building2. Character design and animationWe also have both full- and part-time smart contract engineers and Unity developers, led by our Blockchain Architect "Ace" ‒ whose expertise in smart contracts and P2E game development serves as a perfect fit for leading our development team.
"C.Monet," the project lead, is an experienced project manager who earned his first Six Sigma belt in 2017. C.Monet is an expert in marketing and has helped several leading projects. C.Monet's background is in investment banking and advertising.
4. How did you discover Fantom? What do you like about Fantom?
We are not new in the crypto industry; we've always wanted to create a P2E metaverse.
However, with the challenging fees that Ethereum presents, we felt like we might be constrained in creating complicated and unique contracts, so we had to look for an alternative.

When researching different Layer-1 networks on which to build our P2E metaverse, we had to consider the most cost-effective and scalable network to build on.
Fantom's inexpensive fees allow us to explore new contracts and try new methods that would be too expensive for other P2E projects.

We have shown that this is the case while working on our other project ‒ NFT Duelz.
5. How has the reception from the community been?
The reception from the community is excellent!
Many NFT/Crypto projects are investing in 8BIT lands for the sole purpose of integrating and building their community in the metaverse.
Because of this demand, the trading volume for 8BIT lands has passed $1,000,000 traded within just three months.
6. How does building on Fantom compare to working on other chains?
Fantom's cheap transaction fee allows us to create unique and complicated contracts.
With this in mind, we can concentrate on functionality and user experience because we don't have to worry about expensive gas fees.
Fast transactions on Fantom also help with the smoothness of our game process. Fantom also has a convenient and publicly available RPC, making the development process more manageable.
7. Can you tell us anything about what you're working on now? What can you tell us about upcoming P2E opportunities on 8Bit?
We had our Beta V1 released over a month ago.
In this stage, players can connect to the metaverse but with limited characters to play with. We had our successful trial run, and over 200 people participated.

On our most recent Sunday update (December 19, 2021), we uploaded a video of the mobile app being tested by one of our team members. This update created huge hype in the community as it shows that more and more players will be able to access the metaverse via mobile.

Currently, we are working on releasing our Beta V2, where users can play with their Netizens and explore a comparatively larger metaverse.
We plan to launch the metaverse right after Beta V2, which is in Q1 2022.

We are also working on a YouTube series that will explain the lore behind 8BIT World. Here's a list of things that the community can look forward to.

- Beta V2
- 8BIT World youtube series
- Native token launch
- Staking tokens and NFTs
- Metaverse launch
- IFO live
- Metaverse mini-games
- Metaverse mobile
- Breeding Netizens
- Quests (PVE)
- Social platform launch
8. What can you tell us about integrations with the Fantom ecosystem?
Players in the metaverse (Netizens) will be able to accessSpiritSwap, Paintswap, NFTKEY, and other projects that have purchased 8BIT lands. In the metaverse, we have a specific place in the Central Plaza where projects can launch.
We will also offer protocols the option to provide an IFO (Initial farm offering) to our users. This means that projects choosing to launch on 8BIT Metaverse can have the space in  Central Plaza for a certain period while users (Netizen) can have the opportunity to farm their tokens or participate in a token sale.
Our main goal from the start is to be the center where everything happens on Fantom.
Essentially, we want everyone who plans to launch on Fantom to consider 8BIT World as a place to boost their community.
Projects launching with us will have a significant advantage in advertising. We can feature them on our launchpad section in the metaverse and give them a boosted post on the social platform.
Engage with 8BIT World: