Spotlight
Fantom Community Spotlight - The DeFi Edge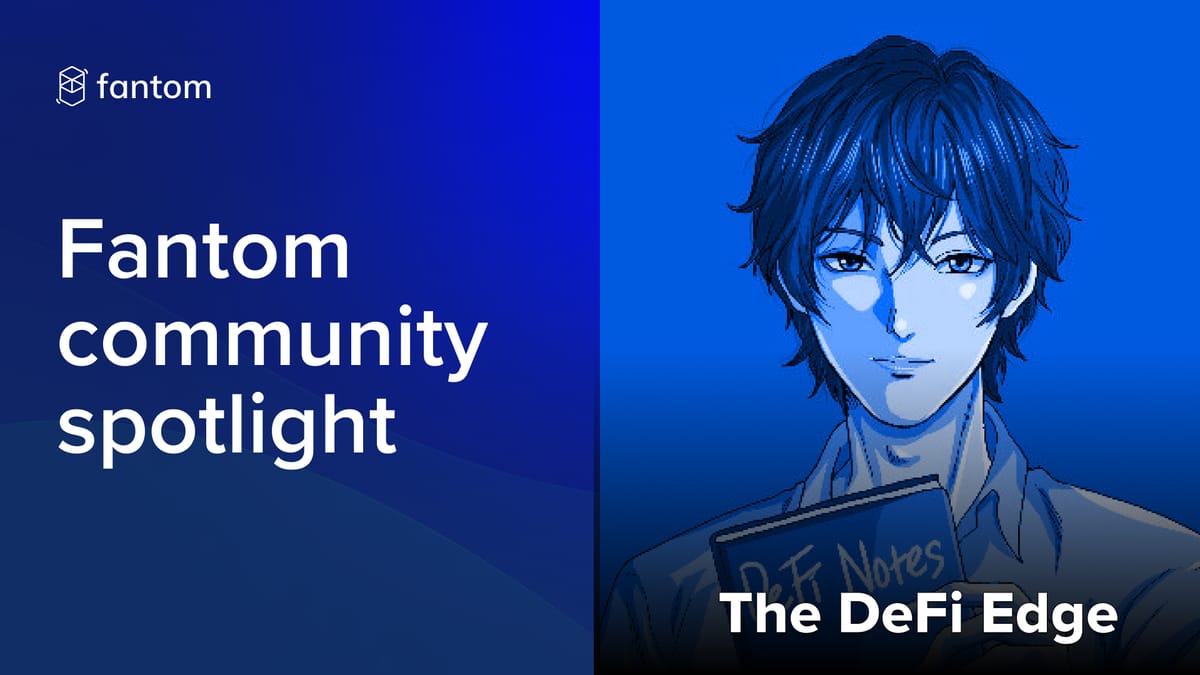 For DeFi protocols, establishing effective chains of communication with their communities is no simple feat—missing this key ingredient often becomes the achilles heel. The DeFi Edge burst onto the web3 scene when he identified this void and stepped up to provide clear communication in what was otherwise a vortex of misinformation.
Here, he joins us to share his mental models for navigating the space, his predictions for how DeFi will continue to evolve, and what he's working on next.
How did you first get into crypto?
I bought my first Bitcoin around 2013 and proceeded to lose most of it in the Mt. Gox hack. I thought Bitcoin was an interesting idea, and couldn't have imagined it would become as large as it is now.
I didn't take crypto seriously again until the summer of 2017. I was able to build a large portfolio by investing early into projects like Raiblocks (now Nano), Neo, Ethereum, and more.
Unfortunately, most of my portfolio evaporated in 2018.
I got greedy and didn't take profits. And I sold a lot of my blue chips to chase after high-risk altcoins.
I didn't get back into the space until late 2020 when my friend told me about DeFi. Once I understood DeFi, I fell hard into the rabbit hole. I haven't left since!
You've said before that you view crypto as a video game. What are the parallels you see between the two?
I didn't have a lot of friends in high school. Because of that, I spent a lot of time gaming online. Even though I played games across different genres, I spent the most time playing RTS games like Age of Empires 2 and Starcraft 2.I reached the level of Grandmaster in Starcraft 2, which is the highest you can achieve.
Success leaves clues. That's why someone like Arnold Schwarzenegger has found success across so many different fields. What works in one area can work in another!

So I see a lot of crossover between Starcraft and Crypto.
Three Things I Learned from Playing Starcraft:
Resource Allocation (Budgeting)
In Starcraft, you have two resources: gas and minerals. You have to make decisions based on those two constraints. Do you re-invest in a bigger economy down the line? Do you risk it all to attack the person with a rush? Each decision has a trade-off.Our resources in Crypto are our time and money. Say you have a $5,000 budget. Do you keep it safe with blue chips, or do you go aggressive with degen bets? Or you might want to play it safe with stablecoin farming.
If you have a job and kids, you don't have a lot of time to allocate to DeFi. How do you make the most out of it?
Pivoting
Games move fast. Maybe I decided to focus on building my economy, but I scout a Zerg rush is on the way. If I stick to my plan of building the economy, then I'm dead.I HAVE TO change my plans and switch to defense. That's pivoting. I feel that same energy in DeFi. Sometimes I'll fall in love with a platform, but then something changes. They switch their direction or their roadmap. In that case, you have to be flexible enough to change your plans. That's why we have a saying, "Don't marry your bags."
Optimizing on Results
1 vs. 1 games like Starcraft and Chess teach you ownership. When you're playing a team-based game like Counter Strike or Dota 2, it's easy to blame your teammates when you lose. If you lose in a 1 on 1 game, it's 100% your fault. This is empowering. Stuff happens in DeFi. Smart contract exploits, or drama with the developers. It's easy to blame others. Instead, I look at what I did. What could I have done better? What am I going to do differently in the future? What biases did I fall under?
When did you get involved in the Fantom Ecosystem?
This is such a painful story to tell. My friend told me about Fantom early. I played around with Fantom a bit and didn't invest. I didn't take the ecosystem seriously because all the dApps were cartoony and ghost-themed. This was one of my biggest DeFi mistakes ever—never judge a book by its cover! I started getting more involved with Fantom in the summer of 2021. I knew that Ethereum alternatives were on the rise, but I wasn't satisfied with the innovation from Binance Smart Chain. I looked around at different Layer 1 solutions, and Fantom stood out. I was initially attracted due to the low transaction fees, but I soon started to see how innovative some of the dApps were.
As a multi-chain investor, where do you see Fantom fitting into the bigger picture?
Every chain starts off being a faster and cheaper version of Ethereum. As more chains develop, it's important for the ecosystems to start developing their "niche." They need to be able to clearly differentiate themselves from the rest of the competition.For example, some focus on GameFi, others on privacy, and some are stablecoin-focused.I see Fantom becoming the go-to place for hardcore DeFi users. I see it as the place where the most cutting-edge innovations take place in DeFi.
I see each ecosystem as its own country.

Think of it as the real world.
Some people are fine being in one country for the rest of their lives. I'm not—I like the freedom of being able to travel.
That's where interoperability between different blockchains comes into play. I want to have the ability to easily move across different ecosystems.
Everyone's limited on funds. Trends and narratives change. As users, it's important for us to have this freedom of being able to move our funds when better opportunities arise.

I'm hoping the ecosystems can operate similarly to the European Union, where it's easy to hop around to different countries.
How did you go about building a social media following?
I never intended to build a social media following.I remember listening to Twitter spaces by Daniele Sesta. I took notes. I saw someone in the comment section ask for notes because they were at work.I turned my notes into a thread. I woke up the next morning to several thousand followers because Dani retweeted it.
I never imagined that my following would grow this big.

A lot of people have asked how I was able to go from 0 to 100k followers in 2 months. My advice:
Solve problems. Every tweet and thread you write should solve a problem for someone. That's how I find topics to write about. I read the comments and see what problems people are having.
Be different. There are a lot of people trying to become crypto influencers. How is your content different from them? Are you funnier? Do you go into more detail? Are you a good storyteller?My most viral thread was about cognitive biases. I knew that understanding this made me a better crypto investor, but no one was writing about it.
Do the hard things. I work hard on my writing. I've had some threads that take me 50+ hours to research and write. I spend more time editing my threads than other people spend writing them. I go into a deeper level of research than others will. If I'm writing about a new protocol, I will spend hours in their discord to see what people say. In business, you want to be hard to imitate. Creating memes is easy. Writing the best tweets / threads of the week is easy. If it's easy, then other people can copy you. When you do the hard things, you stand out.
How do you perceive your own role as an educator in the DeFi space?
Influencers and educators get a bad rap in the space. Some influencers take advantage of the trust they build: they promote pump & dumps, or they don't disclose their involvement with projects.
My first responsibility is to be 100% honest. If I hold an investment in something I'm talking about, I'll disclose it. Transparency goes a long way.
Another responsibility is to own up to your mistakes. I focus on the cutting edge of DeFi, which means I'm going to make mistakes. If that happens, I'll say I'm sorry and be honest about it.
It's better than deleting all your old tweets and pretending it didn't happen.

People aren't stupid. They will forgive you as long as you treat them with respect.
How do you see DeFi continuing to evolve?
DeFi is confusing to use. Some of the tokenomics are becoming almost ponzi-ish. Sometimes it does feel like a game of musical chairs, played by DeFi Whales. Think about the first iPhone, which didn't have an app store. You couldn't even copy and paste! That's where we're at with DeFi. We're in the first generation right now.
Over time we're going to see:

Much better UX & UI. So many details can be hidden and streamlined. Compare downloading a song on Napster to using Spotify today. That will help onboard more people into DeFi.
DeFi used in the real world. I want to be able to swipe my credit card and pay for it with a stablecoin, directly.
Institutions. Too many people are settling for 1% interest rates from their banks, and having it destroyed by inflation. I can see banks and institutions adopting more DeFi products in the backend to increase yield. I can't believe my savings bank wants me to open an account with 0.5% savings and they're calling it "high yield."
In particular, how do you see DeFi governance continuing to evolve?
More experimentation with models: There are issues with the 1 token = 1 vote model. I've seen people upset when you have thousands of people voting but a few whales end up controlling the outcome. I can see more protocols experimenting with different political systems when it comes to voting.
Better tools: I'm grateful that we have Snapshot.org, but I can't wait to see what other innovations come about. I'd love to see "bribes" integrated with the voting. I want to see everything streamlined. I don't want to visit the protocol website, go to a separate website for a forum, and then another website for the actual vote. Make it easy for us.
Not everything has to be a DAO: DAOs have become popular and they sound great on paper. But I can see us moving away from governance. Voting on too many decisions slows things down. Instead, I could see more protocols adopting a Board of Directors + CEO model. At the end of the day, most people are in it for the money. Vote for a competent Board of Directors and Leadership Team, and let them make the decisions.
What is the relationship between trust and anonymity when evaluating projects to invest in?
This is tough. I've seen a common narrative crop up:  "I'm never going to invest in a project with anonymous founders." Satoshi's anonymous.
The best Fantom developers are anonymous.
I'm anonymous myself and understand the desire for privacy and safety.
How do we learn how to trust a team if they're anonymous? I actually wrote about it in detail below.

Read: A Crypto Protocol's Execution
First, I don't think doxxed teams are more trustworthy. We see doxxed people scam all the time and they escape any sort of punishment. Be careful of trusting a dev more just because they're doxxed.

Next, does this team have a history of projects? For example, Creditum is by an anonymous team. But the team worked on a project before called StakeSteak.
Next, look for clues. Have their projects passed audits? How clear is the communication in their white paper and their Gitbook?

Finally, be patient. People are too eager to jump into lower market cap protocols. Wait. Let the team ship, execute, and prove themselves first.
How can we, as a community, work together to foster continued growth on Fantom?
At the time of writing this (March 2022), Fantom is facing many of the challenges commonly encountered with rapid growth.
There was some turbulence with Andre leaving DeFi and not working on SOLIDLY anymore.
There was misinformation and rumors about Fantom that have been proven to be false. (The retracted RektHQ article about whale wallets, for example.)
There are macro forces out of everyone's control, such as the economy and geopolitical events.
Issues concerning various Tomb forks.
Fantom is the most resilient ecosystem I've ever seen. The protocols support each other. The community is strong. So, let's talk address how the community can overcome these challenges.
The most important thing is education. There's just a lot of FUD about Fantom. Help educate people on the truth.
The next step is making Fantom more decentralized. I've seen some proposals to lower the staking minimum requirement to become a validator. Go and vote!
How can a project build an informed and engaged community from day one?
It starts with clear communication from the developers.
What problem does this project solve? How is it different from the competition?
Is there a Gitbook? Is there a clear roadmap?
Be engaged with the community in the Discord. Host AMAs on spaces.
Be transparent. How is the launch being handled in terms of token distribution?
Answer the hard questions.
It's tempting to build a big community through shortcuts like giveaways or buying followers. Quality is better than quantity.
What Fantom projects are on your radar right now?
Beethoven X (Beets). Create liquidity pools instead of pairs. There's a high demand right now for fBeets because of the voting power & bribes.
Liquid Driver (LQDR). Liquidity is the bandwidth of web3. They're taking control of voting power across the entire FTM ecosystem. I have LQDR locked up for the next 2 years. It's definitely an awesome feeling to get a paycheck composed of the top Fantom protocol tokens every week.
Reaper Farm. I have had bad experiences with auto compounders in the past. They do add an additional layer of risk. Reaper has proven to be battle-tested, and they make life for me easier on Fantom.
What projects are you personally working on or excited about right now?
I view everything in phases.Right now I'm in the growth phase. I'm focused on building my following and saying no to everything.
I have some big plans for the future. But right now, I'm a one-man show. I'm implementing new software and hope to hire people soon. Systems + Leverage will allow me to take on more projects in the future.

If I try to do too much, I'm just going to be average at everything. Instead, it's better to be amazing at a few things.
I do have a job board launching in April. There are a lot of people who are interested in transitioning from Web2 jobs to Web3.
I'm hoping that the job board can help great companies and people connect.
The best way to become successful is to help other people become successful. Give unconditionally and the world will reward you.