Announcements
Fantom's RSS news feed integrated with Crypto.com price page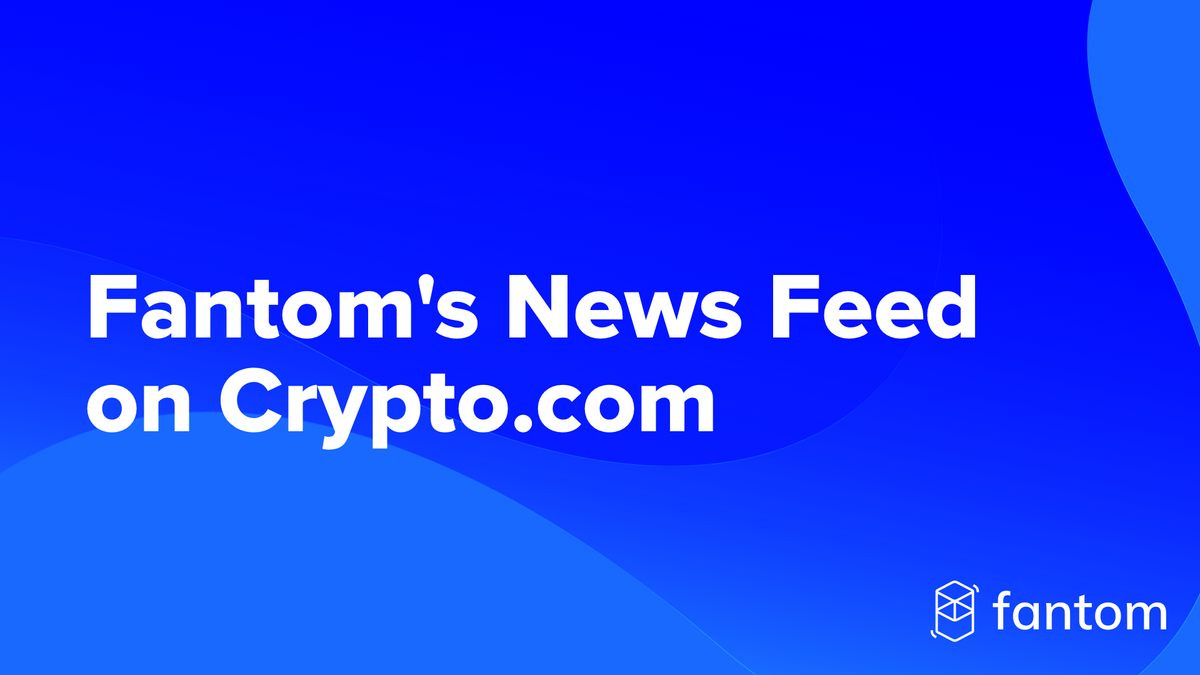 Crypto.com has integrated Fantom (FTM) news and announcements to their Fantom price page. In addition to the listing of Fantom on Crypto.com, users will now be able to keep up with the latest Fantom developments without leaving Crypto.com's platform.
Fantom's goals and aspirations align with Crypto.com's vision: to make cryptocurrencies and blockchain technology accessible to everyone, ultimately improving people's lives.
The exponential growth experienced by both companies this year has brought opportunities for recognition and partnerships with dynamic brands.
Recently, both Crypto.com and Fantom expanded their brand visibility to hundreds of millions of people. Crypto.com is now an official global partner of the Formula 1 Sprint Series, and star driver for AlphaTauri Pierre Gasly is Fantom's brand ambassador.
Fantom stands out as one of the fastest blockchains compared to other decentralized networks. Developers have deployed more than 12,000 smart contracts on the platform. Furthermore, in the past couple of months, more than 40 decentralized applications (dApps) have launched on Fantom, boosting the network activity to an average of 300k transactions per day.
As of now, 200,000+ unique wallets have been created on Fantom, and many projects such as Curve Finance and SushiSwap are building on the network. This brings the Total Value Locked of DeFi protocols on Fantom to $250m+ as Fantom continues to scale.
The reason for success is simple: transactions are confirmed in approximately one second and cost less than a cent. Paired with EVM compatibility and frictionless onboarding, the user experience on Fantom is second to none.
On the enterprise side, Fantom is working with the governments of five countries to fully integrate Fantom's blockchain-based solutions. The Ecosystem Update offers full details, with a list of projects building on Fantom, resources for FTM holders, and more.
"Crypto.com and Fantom have made great strides this year towards mainstream adoption. We're thrilled to be listed on Crypto.com's price feeds and exchanges, and we look forward to welcoming new users who will discover how fast, inexpensive, and easy-to-use Fantom is."
Michael Kong, Fantom CEO
About Crypto.com
Founded in 2016, Crypto.com has grown into a fully-fledged and well-known international cryptocurrency hub in just a few short years. Its crypto ecosystem consists of the Crypto.com App, Crypto.com Exchange, Crypto.com DeFi Wallet, DeFi Swap, Crypto.com Visa Cards, Crypto Earn, Crypto Credit, Price Page, NFT marketplace, Ethereum Gas Fees Tracker, and many other services. Crypto.com works with regulatory institutions all over the globe and aims to bring you the most convenient way to buy, sell, trade, and spend cryptocurrencies. The Crypto.com App allows users to buy over 100 top cryptocurrencies at true cost, to earn high interest on their crypto, to manage their Crypto.com Visa Card, and to easily make crypto payments, along with many other rewarding features. The company's Crypto.com DeFi Wallet is non-custodial, so users can have full control of their private keys.
Crypto.com is a highly secure and regulated crypto platform with numerous security certifications and assessments awarded by top security auditors.
Crypto.com has obtained the following certificates:
ISO/IEC 27001:2013, ISO/IEC 27701:2019, PCI:DSS 3.2.1, Level 1 compliance and CCSS.
ISO/IEC 27701:2019 Certification for privacy risk management by SGS.
ISO/IEC 27001:2013 Certification for information security management by Bureau Veritas.
Level 1 (highest degree) PDC:DSS standard for complying with strict requirements in the payment card industry.
CCSS (Cryptocurrency Security Standard) — a series of strict security requirements for storing, accepting, and transacting cryptocurrencies.
Adaptive (Tier 4) rating — National Institute of Standards and Technology (NIST) Privacy Framework
Adaptive (Tier 4) rating — National Institute of Standards and Technology (NIST) Cybersecurity Framework
Website | Discord | Telegram | Blog | Twitter | Reddit
About Fantom
Fantom is a fast, scalable, and secure layer-1 EVM-compatible platform built on a permissionless aBFT consensus protocol. On Fantom, transactions are confirmed in 1 second and cost a fraction of a cent. Speed, low transaction costs, and high throughput make Fantom ideal for DeFi applications and real-world use-cases.
Website | Docs | Research papers | Discord | Telegram | Blog | Twitter | Reddit | Github