We are excited to announce that Movr Network has integrated Fantom into FundMovr, a metabridge that facilitates seamless cross-chain asset transfer.
FundMovr is an innovative solution that aggregates all bridges, DEXs, and DEX aggregators in one easy-to-use app. FundMovr APIs and SDK can be easily integrated into Fantom ecosystem projects, allowing users on other chains to interact with Fantom projects without ever leaving their apps. The APIs and SDK further enable Fantom developers to build cross-chain functionality directly into their dApps, ensuring a consistent user experience.
With FundMovr, developers on the Fantom network now have a powerful tool to further expand the DeFi opportunities for which the Fantom network is renowned. Equally important, new users wishing to enjoy Fantom's near-instant finality, low transaction fees, and thriving ecosystem will be able to easily and efficiently migrate their assets.
Keeping Fantom's growing community in mind, Movr Network will work on an ongoing basis with the Fantom Foundation and Fantom ecosystem projects to support users migrating to the Fantom network.
"Fantom's fast-growing ecosystem, low fees, and near-instant finality have made it one of the most in-demand chains among our users. We are delighted to be working closely with the Fantom team and ecosystem to help migrate more users and assets to the network." ‒ Rishabh Khurana, Co-founder Movr Network.
"We are extremely pleased to be working with Movr network. In a future that will rely heavily on cross-chain technologies, FundMovr's innovative bridge aggregation solution will play a vital role in promoting interoperability. Fantom's fast confirmation times and low fees mean that users on Ethereum L2 chains will feel right at home in the Fantom ecosystem, where they will have a wealth of dApps and DeFi opportunities at their disposal." ‒ Michael Kong, CEO Fantom.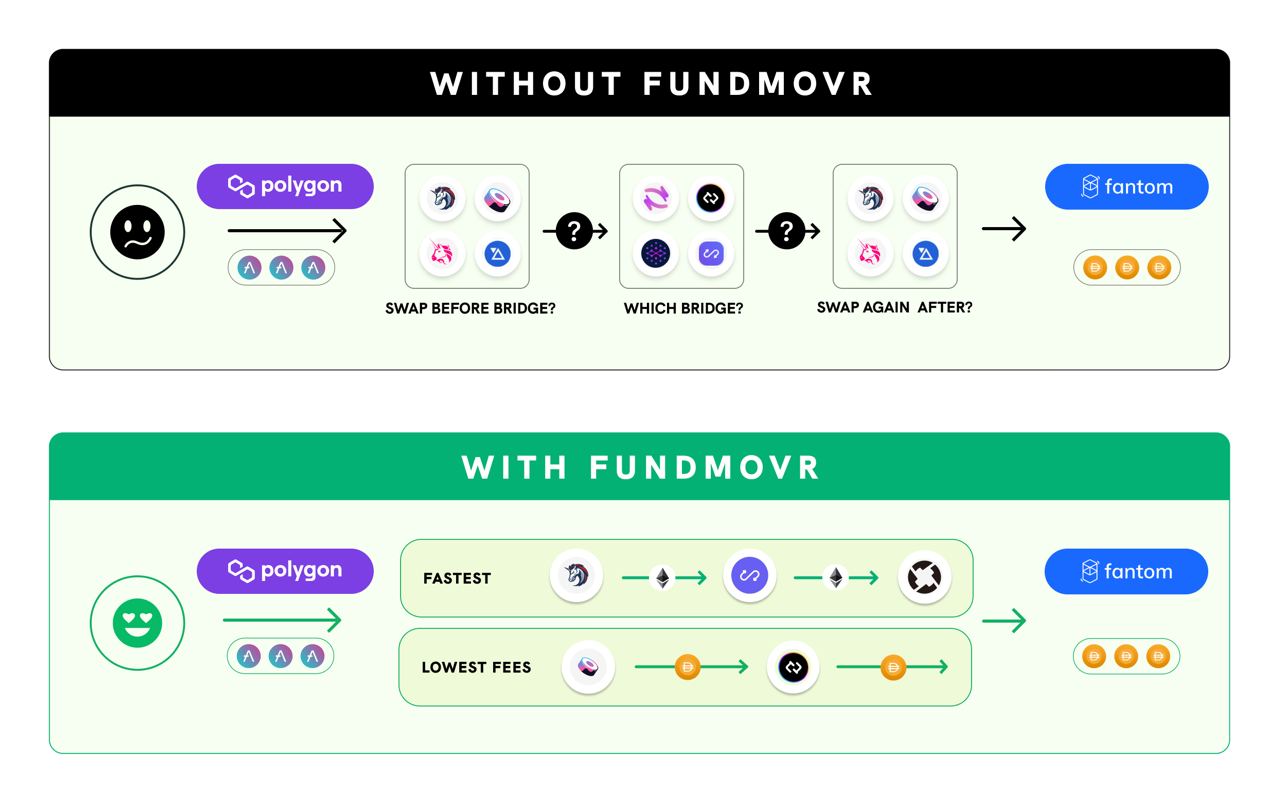 About Movr
Movr's mission is to simplify building cross-chain applications. We are building the critical interoperability infrastructure for a multi-chain future that will power use cases like cross-chain lending, cross-chain swaps, and many more!
Website | Documentation | Twitter | Discord | Blog
About Fantom
Fantom is a fast, scalable, and secure layer-1 EVM-compatible platform built on a permissionless aBFT consensus protocol. On Fantom, transactions are confirmed in one second and cost a few cents. Speed, low transaction costs, and high throughput make Fantom ideal for DeFi applications and real-world use-cases.
Website | Docs | Research papers | Discord | Telegram | Blog | Twitter | Reddit | Github