Announcements
Call for Fantom builders to enter the Defining DeFi Hackathon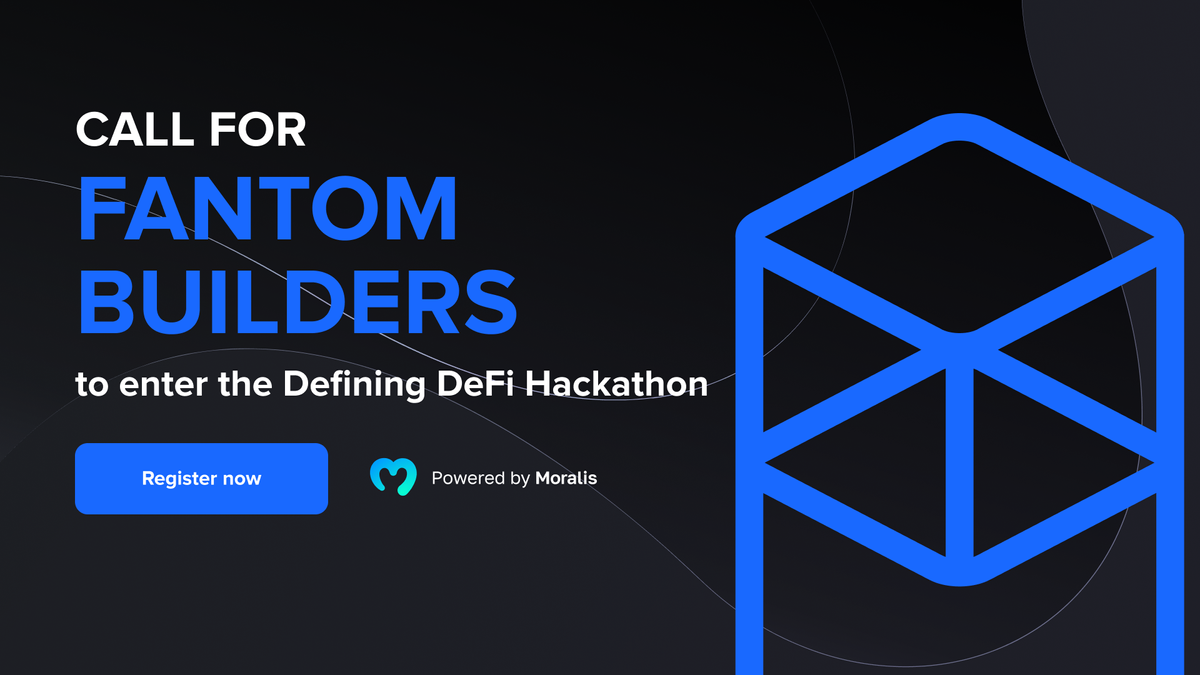 Do you have an unrealized idea for a DeFi-focused dApp? It's time to start building as registrations for the Moralis X Google Cloud Defining DeFi Hackathon are now open until October 14!
Qualifying Fantom-native projects submitted by November 11, 2022 (11:59 UTC) will be eligible to compete for prizes and bounties, including a share of a $25,000 prize pool from the Fantom Foundation.
Here with a rundown of contest rules, criteria for builders on Fantom, and available prizes:
Registration
Teams/builders must register by October 14, 2022. There are no restrictions on team size, and teams may submit more than one entry. Individual participants cannot belong to more than one team.
dApp Guidelines
Fantom native dApps should fit into one of three tracks:
TradFi meets DeFi
dApps that bring concepts and tools from traditional finance to DeFi. These dApps should demonstrably leverage DeFi's capabilities to improve upon  TradFi and capture "Real-Yield" (or protocol revenue) for users.
DeFi ++
dApps submitted under this track should utilize Fantom network performance to improve measurably on existing DeFi protocols and tools.
P2P Insurance
These dApps should reduce costs and eliminate moral hazards to create sustainable insurance markets.
Prizes
Qualified entries will be eligible for the following prizes and bounties:
Moralis X Google prize — $20,000 and 100,000 Google Cloud Credits will be awarded to the best overall project in the hackathon, selected by Moralis' committee of judges.
Fantom Foundation prizes — First, second, and third-place prizes for the TradFi meets DeFi, and DeFi++ tracks are $5500, $2000, and $1000, respectively. Prizes for the P2P Insurance track are $5500, $2000, and $500 for first, second, and third place.
Covalent bounty — dApps integrating Covalent are eligible to compete for a $5000 bounty.
Multichain bounty — dApps powered by Multichain's messaging protocol can compete for a $5000 bounty.
Additional requirements
All entries must integrate Moralis APIs. We encourage all entrants to read the FAQ on the Moralis X Google Hackathon webpage before registration.
Have more questions? Reach out to Moralis via the Hackathon webpage chat or, for specific questions about Fantom criteria, email us directly at contact@fantom.foundation.